What if we asked you what's the most important meal of the day? Did you say, 'Breakfast?' Your first food of the morning represents the foundation of the day and an opportunity to break the hours-long overnight fast. And even if breakfast doesn't hold the number one spot for you, you're likely still a fan of breakfast foods. Author Jonathan Goldstein notes, "Everyone runs around trying to find a place where they still serve breakfast, because eating breakfast, even if it's 5 o'clock in the afternoon, is a sign that the day has just begun, and good things can still happen."
In a daypart where products like cereal have lineages dating back to the mid-19th century, finding ways to stand out with breakfast innovation may seem daunting. But we're up for the challenge! Join us as we examine breakfast trends and discover opportunities to attract consumer attention and meet needs.
Let's start with an overview of the biggest and fastest-growing subcategories to understand how the category is evolving:
The leading breakfast subcategories reflect consumer demand for versatile offerings in the morning. From on-the-go snack bars to less time-sensitive bowls of cereal or full breakfasts with eggs and meat, producers strive to meet demands that change across days and audiences.
Top Ten Breakfast Subcategories (IRI, Winning Breakfast, Generation by Generation)
Fresh Fruit
Milk
Coffee
RTE Cereal
Yogurt
Snack/Granola Bars
Refrigerated Eggs
Breakfast Meats
Weight Control (Liquid/Powder)
Frozen Breakfast Foods
Marking the return to away-from-home eating, the need for quick, fresh tastes and variety is evident in fast-growing subcategories, where in-store bakeries, delis, and to-go beverages are picking up momentum.
Top Ten Fastest Growing Breakfast Subcategories (IRI, Winning Breakfast, Generation by Generation)
Perimeter Croissants (+20%)
Center Store Croissants (+19%)
Deli Breakfast (+14%)
Cold Brew (+17%)
Refrigerated Breakfast Entrees (+16%)
Cappuccino/Iced Coffee (+14%)
Perimeter Morning Bakery (+14%)
Shelf Stable Bottled Orange Juice (+8%)
Consumer Spotlight: Behaviors Impacting Breakfast Innovation
Are consumers still regularly reaching for breakfast foods? The 95% that say they eat morning foods in a typical week indicates a resounding yes. But consumer habits have changed over the past few years, and so has the breakfast category.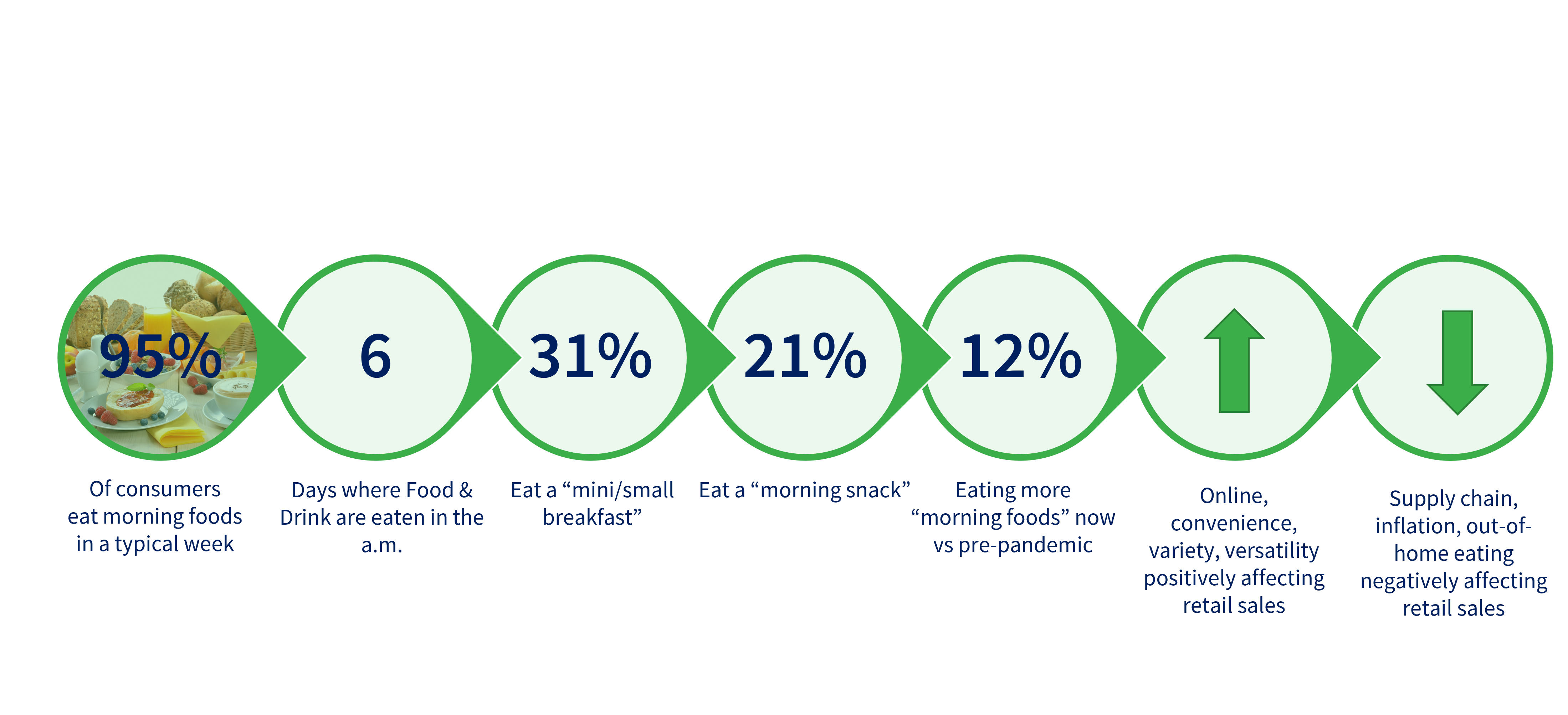 The scene where mom or dad makes breakfast and everyone comes to the table over the same meal has been replaced to meet individual needs.
55% of consumers report eating different morning foods than the rest of their household, and 63% say everyone fends for themselves for breakfast. (IRI)
Some consumers are still prioritizing that at-home, at-the-table experience, but many lead lifestyles that don't support the time or effort during the week.
Developers are responding with hybrid offerings to act as a mini breakfast or small morning snack. These products include items like muffin sticks, bite-sized portions, omelet rolls, and new snackable sizes and portions of cereals.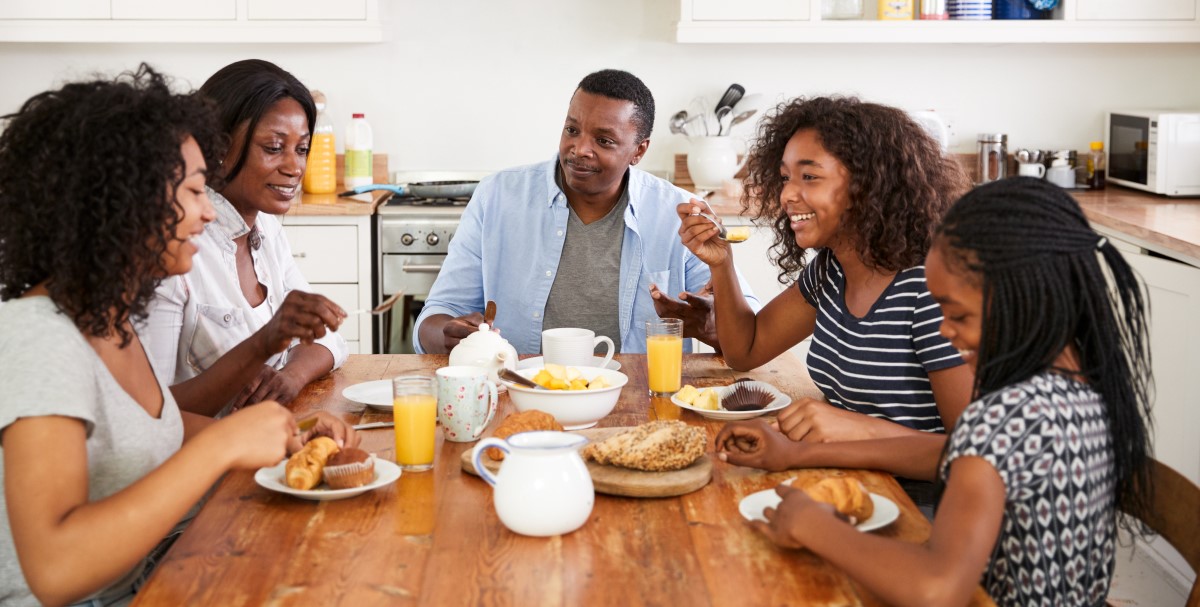 Move Over Eggs and Bacon: What's Next in Breakfast Trends
Premiumization for Experience Building
75% of consumers still eat breakfast/morning foods at home. (IRI) The space, privacy, and available time provided by an at-home meal align with consumer desires for more premium experiences. For developers, premiumization occurs through indulgent flavors, unique textures, upscale ingredients, and novel formats. Providing a premium taste experience offers a great way to tap into the 25% of consumers who find it fun to experiment with different kinds of foods and beverages in the morning. (IRI)
How can brands communicate premiumization and appeal to consumers? Innova Market Insights recommends connecting with consumers through storytelling to paint a picture around "handmade, small batch, and flavors inspired from travel." IRI urges developers to balance price and premiumization to meet consumer cost goals.
Versatility for Unique Morning Routines
While premiumization is a priority, consumers still rank ease of use and versatility highly important. According to Innova Market Insights, consumers are looking for easy-to-prepare food that tastes homemade. Brands that deliver convenience + delicious flavor can bridge the gap for consumers who want the premium at-home experience but have demanding lifestyles.
67% of consumers describe their average week as "very busy" or "pretty busy" (Innova Market Insights), making a quick and easy breakfast a 'must' for most people. Often, families will need a variety of options to accommodate the needs of everyone in the household. (IRI)
How can developers offer the versatility that consumers need to support busy lifestyles?
53% of consumers are looking for easy-to-prepare foods (Innova)
31% of consumers are looking for on-the-go foods/drinks (Innova)
50% of consumers are looking for snacks (Innova)
26% of consumers are looking for energizing foods/beverages (Innova)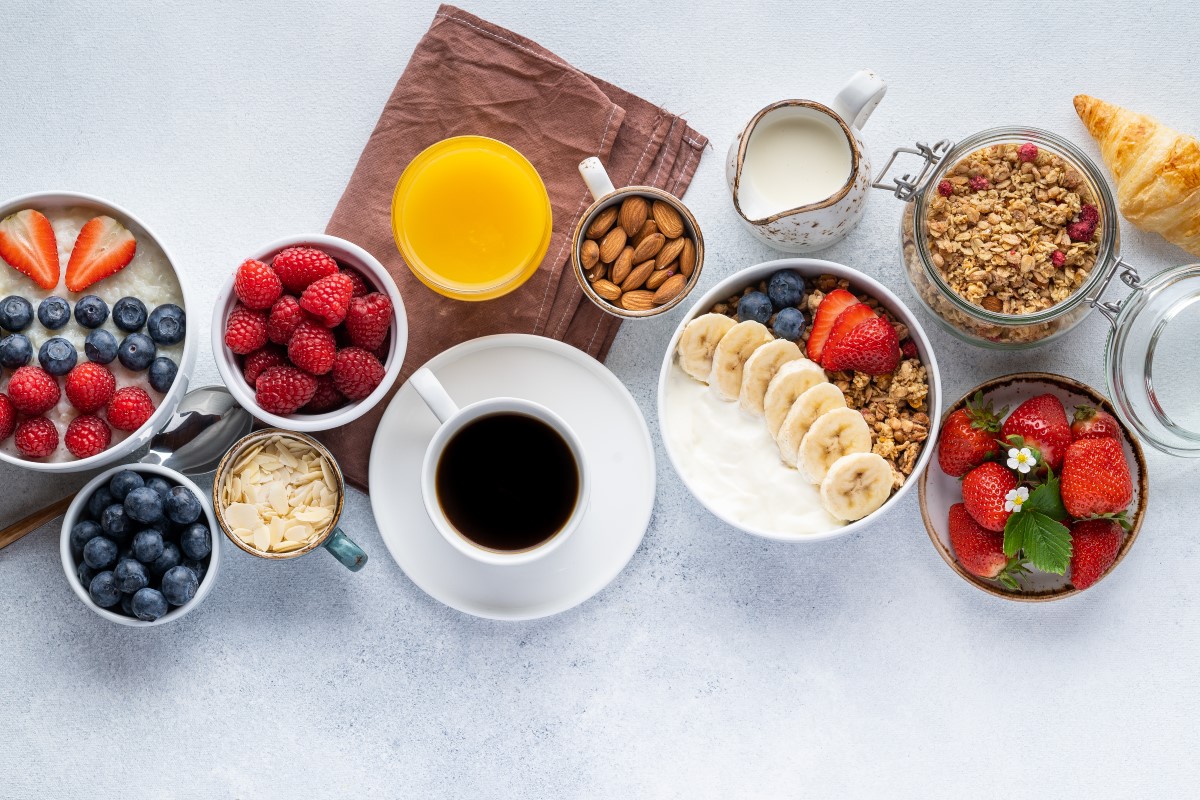 Benefit-Based to Meet Consumer Needs
The functional food and beverage market is heading toward a double-digit share of sales in the U.S., with roughly two-thirds of consumers buying or seeking a purposeful product. (FlavorSum Proprietary Study) The past few years' events have expanded consumer expectations of lifestyle and functional benefits. Let's explore why consumers are looking for benefit-based products:
67% prioritize healthiness (IRI)
51% look for specific nutritional benefits (IRI)
30% target immunity benefits (IRI)
47% want more energy (FlavorSum Proprietary Study)
35% look for mental acuity support (FlavorSum Proprietary Study)
The inherent characteristics of many breakfast foods – with fiber, protein, and vitamins – make the meal occasion functional. Foods provide start-of-day support, fast-breaking energy, and sustenance for taking vitamins, supplements, and medicines. In a category with classic foods and beverages such as milk, cereal, breakfast meats, and eggs, formulators can chart an innovation pathway through functional benefits. For instance, IRI shares developers can innovate in milk with lactose-free, ultra-pasteurized, or high calcium claims. Enhancing a classic item at the breakfast table can breathe new life into stagnant or declining categories.
Trending Flavors in the Breakfast Category
Top Flavors Across Key Categories in Breakfast
As noted in the chart below, familiar and traditional breakfast flavors continue to resonate with brands and consumers. Yet people are willing to explore new tastes, especially if the flavor combinations deliver premium experiences.
FlavorSum recently showcased innovative breakfast flavors in bar format at IFT First 2022. Our Tropical Tiki transports consumers to the beachside for breakfast. Yuzu-Date brings a global flair to breakfast grains. And Maple Cranberry White Chocolate can provide the rich tastes consumer crave in a grain-based format for a healthier snack.
We also explored flavor innovation for beverages that fit with the breakfast occasion. Why not start the day with Elderberry Citra Hops for a boost of immunity? Or get a little extra energy with mango-pomelo paired with green tea extract?
| | | | | |
| --- | --- | --- | --- | --- |
| Cold Cereals | Hot Cereals | Snack/Cereal/Energy Bars | Bread & Bread Products | Meat Products |
| Chocolate | Apple & Cinnamon | Strawberry | Blueberry | Maple Syrup |
| Cinnamon | Maple & Brown Sugar | Apple | Cinnamon | Applewood Smoked |
| Fruit | Cinnamon | Chocolate | Cinnamon & Raisin | Hickory Smoked |
| Honey | Chocolate | Almond, Chocolate, & Cherry | Corn | Smoke (Maple) |
| Roasted/Toasted | Berry | Banana & Chocolate | Honey | French Toast |
| Almond & Honey | Banana Walnut | Fruit & Nut | Lemon & Poppyseed | Sage |
| Berry | Maple | Berry | Onion | Spice/Spicy |
| Raisin | Almond & Vanilla | Blueberry | Raisin | Sugar (Maple) |
| Honey & Nut | Pumpkin & Spice | Almond & Coconut | Butter | Chorizo |
| Peanut Butter | Peach & Cream | Apple & Cinnamon | Apple Strudel | Apple & Brown Sugar |
Mintel. Past Three Years. North America. Foods with Breakfast Claims.
Partner with FlavorSum to Wake Up your Breakfast Innovation
Are you looking for support on your breakfast innovation journey to success? Leverage our extensive flavor and category expertise by partnering with us on your next morning innovation! A partnership with our flavor experts can help you navigate development hurdles and speed time to market—all while delivering delicious taste. We're here to take your projects from ideation to commercialization. Connect with our team to learn more!