Originally posted on September 4, 2020 | Updated on January, 20, 2022
Every business sector has a unique acronym-filled language. You may hear terms like QSR, CWT, FTP, TOS, and SME. The flavor world contains a few acronyms like GRAS (pronounced 'grahs' meaning Generally Recognized as Safe) and FMP (Flavor Modulating Properties). Two of our favorites are Natural WONF (pronounced wan-eff) and FTNF, acronyms used to describe flavor labeling designations.
What is WONF? WONF stands for 'With Other Natural Flavors.'
What is FTNF? FTNF stands for 'From the Named Fruit.'
Flavor Labeling Acronyms Explained
The chart below explains the range of descriptors you may read on labels from your flavor supplier.
Natural or FTNF: Only contain ingredients directly from the flavor source. Also known as single-source or true-to-fruit
Natural WONFs: Include ingredients from the named source and also pull in additional flavor notes from other natural sources.
Natural type flavors: Use ingredients from natural sources to create a flavor profile that delivers an expected taste.
Natural and artificial flavors: Rely on a combination of ingredients from the named natural sources and other substances that could include non-natural.

Natural and artificial-type flavors: Use a combination of natural and non-natural ingredients, but none from the named source.

Artificial flavors: Deliver a familiar taste created with ingredients other than natural sources.
The FDA stringently regulates flavors' labeling, so food and beverage processors understand the source(s) of the flavor's ingredients. You can read more detailed information about the FDA food labeling laws here.
On finished products, however, labeling is much simpler. Whether you choose a natural flavor (FTNF), a natural WONF, or a natural type, your food or beverage ingredient statement can state 'natural flavors.'
Here's the downloadable version of our 1-page guide to flavor labeling.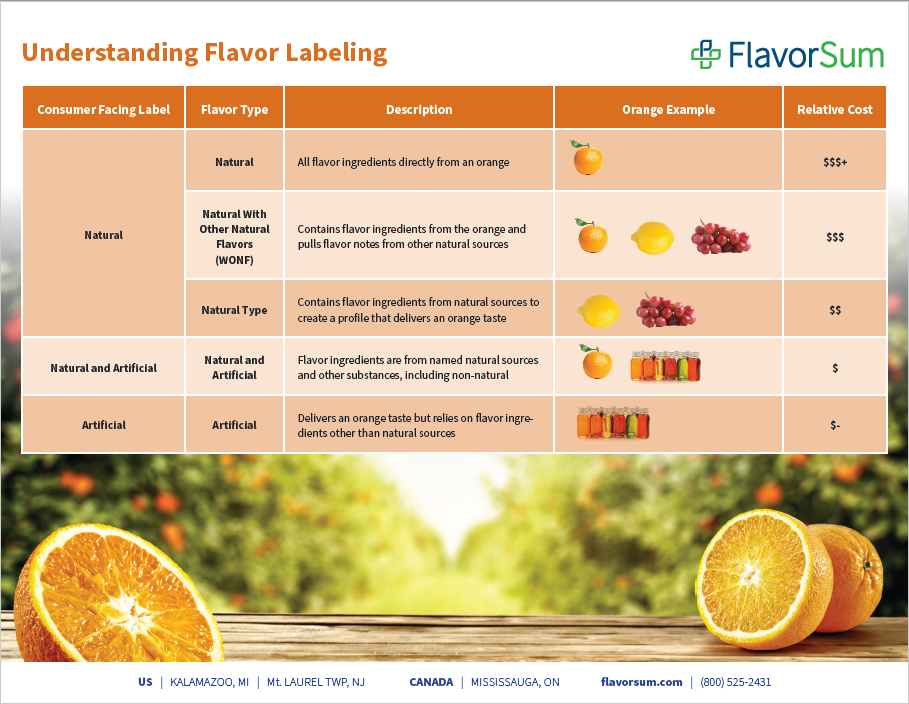 Selecting the Right Type of Flavor for Your Food or Beverage
From a taste perspective, few consumers will perceive differences across the range of flavor solutions. The food or beverage's nutritional value won't be impacted by your choice of natural or artificial flavors.
Factors worth considering that may affect your decision about the type of flavor include:
Desired flavor profile: Fanciful or fantasy flavor profiles such as tutti frutti or cotton candy lack a named source in nature. As a result, they would require the use of a flavor type or artificial flavor.
Sourcing and availability of ingredients: What if you're interested in a difficult to obtain flavor or one with limited availability in natural sources like the trendiest superfruit found only in the tropics? A natural type or artificial flavor option would mimic the flavor by using approved flavor constituents without using the actual ingredient.
Needed flavor intensity: Some applications like bakery need stronger flavor concentrations to deliver the right taste intensity after baking. Natural flavors (FTNF) tend to be weaker and have limited ingredients available for formulators. To get the right strength, your product may require a larger amount or higher concentration of flavor. It's important to note that increasing the amount of liquid flavor may affect the proportion of wet-to-dry ingredients. And higher concentrations of flavor can cost more. Another flavor option such as a Natural WONF can provide a more intense and cost-effective alternative.
Regulatory goals: Some new products are designed for a niche market or to make specific claim such as allergen-free. With a natural type flavor, a product could feature a peanut taste without the added regulatory and quality steps created by a peanut-derived ingredient in your facility.
Budget: In general, natural flavors cost more than other options, with prices dropping as you move down our graph from natural to artificial. If your brand positioning requires a cleaner label, we can deliver affordable, on-trend, delicious natural flavors by using advances in technology and smart sourcing.
Meeting Consumer Expectations about Labeling Transparency
While selecting the right flavor offering will depend heavily on your formulating, budgetary, and manufacturing needs, it's also crucial to consider your consumers and their unique preferences.
For some people, the word artificial raises concerns, but artificial ingredients often mimic the composition of their natural counterparts. While we see a portion of product launches touting claims for "no artificial flavors," the numbers don't suggest you need to formulate to avoid them.
The percent of North American food and beverages launches with free-from artificial flavoring claims hasn't changed significantly over the past few years, slightly decreasing from 2020 to 2021.1 Consumers are talking less frequently about artificial flavors. Trendwise reports that the phrase "no artificial flavors" has dropped by -5.5% in social chatter over the past year.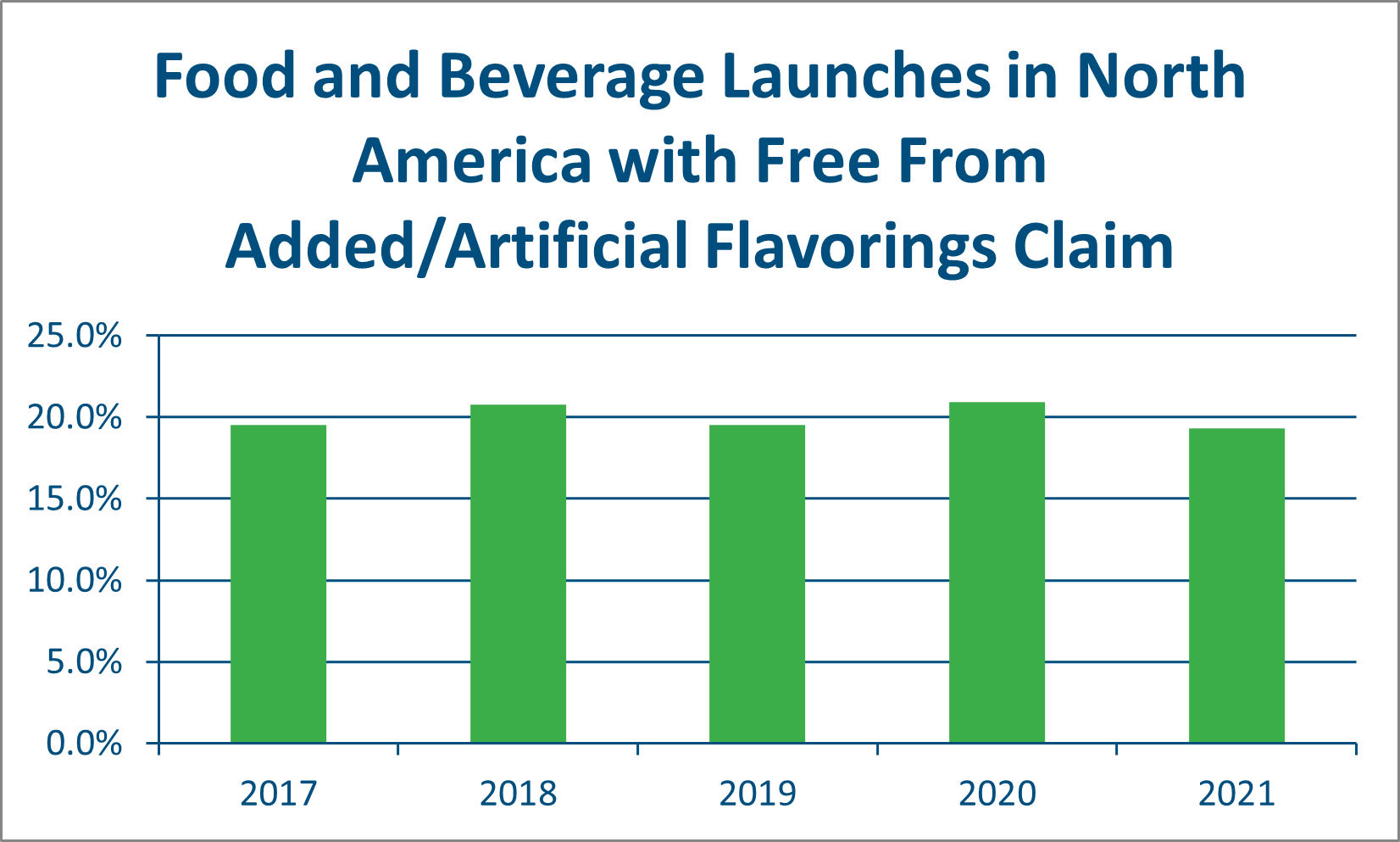 Despite fewer claims about free-from artificial flavors, artificial ingredients can deter consumers in some categories, particularly those with health-focused products. For instance, a recent Mintel study on the nutritional space revealed that 26% of adults who avoid nutrition drinks indicated that artificial ingredients are a barrier to consumption. In a category that requires artificial ingredients to fortify the product nutritionally, natural flavor options may present an opportunity to clean up a label and appeal to consumers.
Connect With the FlavorSum Team About Your Next Flavor
Now that Natural WONF and FTNF roll off your tongue like a pro, reach out to us during your NPD activities for support with flavor selection. Partnering with FlavorSum means you'll meet your launch date within budget and deliver the tastes your customers crave!