What does every brewer or distiller interested in bottling flavored alcoholic beverages for the U.S. market have in common? They all need federal government approval of their beverage formulas. So whether you're an R&D team creating innovative flavors for a beer brand, or a start-up with a fresh take on hard seltzer, you'll soon connect with the
TTB
.
What is the TTB?
The TTB or Alcohol and Tobacco Tax and Trade Bureau, is a government agency with a broad mission. The TTB is responsible for collecting taxes, but it also monitors labeling, advertising, and marketing of alcohol, tobacco, firearms, and ammunition. Ultimately, the TTB focuses on administering laws and regulations to protect consumers.
The TTB must review and approve certain ingredients in alcoholic beverages, including added flavors, for several reasons:
To confirm that ingredients comply with federal requirements and are considered safe.
To assign the correct tax classification.
To ensure labels provide non-misleading information about the beverage.
Read on to learn more about navigating the process for TTB approved ingredients.
Which Beverages Must be TTB Approved?
The TTB focuses on the commercialization and proper labeling of beer and malt beverages, wine, and distilled spirits. Hard seltzers, both malt-based and sugar-derived, are also subject to TTB regulations.
The TTB Approval Process
Before starting production, alcoholic beverage manufacturers must apply for a TTB permit to operate their business. The application process is free but may take up to 120 days for approval.
After receiving the permit, the manufacturer will submit their beverage formulas, along with pertinent information on certain added ingredients. In addition to evaluating ingredients, the TTB will also consider the production process before approving scale-up.
The final step before beginning to brew or distill beverages is submitting package labels. Here are a few examples of approved labels: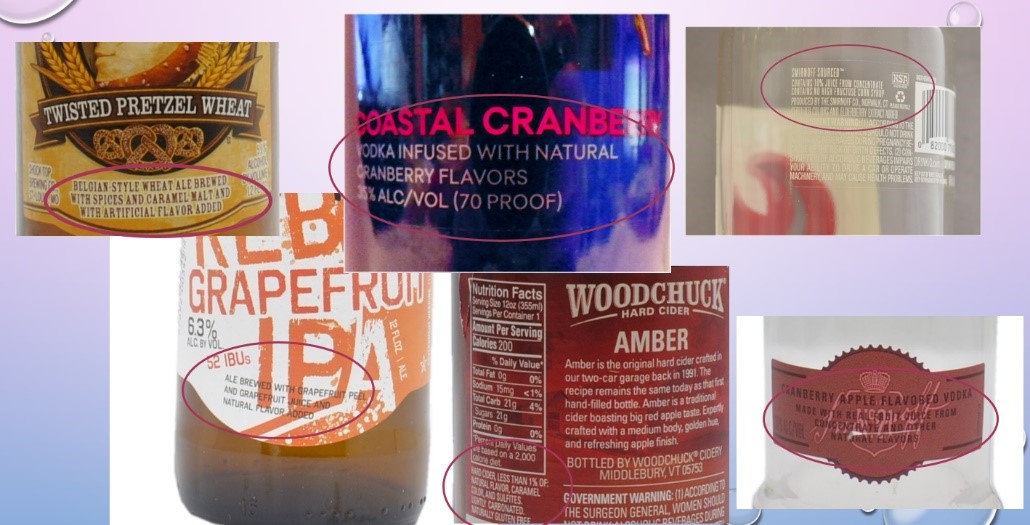 TTB Regulations and Formula Requirements
When producing any alcoholic beverage for retail sale that uses a non-traditional process, brewers and distillers must submit a formula to the TTB before beginning production. The formula is a complete list of ingredients and the step-by-step process used to make the final product.
If a brewer or distiller uses one of the following traditional processes, the TTB doesn't require a formula submission:
Pasteurization
Filtration before bottling
Filtration instead of pasteurization
Centrifuging for clarity
Lagering
Carbonation
Blending
Non-traditional processes (which require a submitted formula) include:
Removal of any volume of water from beer
Filtration of beer to substantially change the color, flavor, or character
Separation of beer into different components
Reverse osmosis
Addition of flavor ingredients
Concentration of beer
Ion exchange treatments
A formula application must include a Flavor Ingredient Data Sheet (FIDS) with submission.
FIDS show the following information about the flavor:
the manufacturer
the flavor name and the required drawback number for the TTB
the alcohol content
the natural or artificial designation
maximum usage rate based off the limited ingredients the flavor may contain such as caffeine, vanillin, propylene glycol, maltol, and preservatives

.
Formula applications may also require the following:
Laboratory analysis– Most imported products containing more than 7% alcohol, alcohol-free malt beverages, and case-by-case submissions require laboratory analysis. Samples are processed before formula applications can be approved.
Ingredient Specification Sheets (SPEC)- A SPEC is required with a formula submission when an ingredient added to the beverage contains more than one component. For example, a vintner adding fruit juice to sweeten wine would need a SPEC sheet listing the fruits that compose it.
Ingredients Used to Impart Flavor
Many ingredients are used by the alcoholic beverage industry to impart flavor. For example, many wheat beers contain citrus essential oils such as orange oil. The wide array of beer and distilled spirit styles, such as cherry stouts, lime vodka, cinnamon whiskey, or coffee java porters, pair well with flavors.
Why consider adding flavors during the brewing or distilling process?
Using a flavor like vanilla extract provides higher consistency and quality from batch to batch.
Adding flavors also removes the hassle of purchasing and scraping vanilla beans manually.
The result? The brewer or distiller spends less time focusing on raw materials and more on production volumes and consumer enjoyment.
Although flavor ingredients in alcoholic beverages need TTB approval, speeding the development process is possible by partnering with companies that already have TTB approved flavors. Flavor manufacturers often have extensive libraries of liquid TTB approved flavors. Some, like National Flavors, will ship flavor samples within 24-hours to use for small batch testing.
Another key benefit of working with approved TTB flavors is the ease of access to the Flavor Ingredients Data Sheet (FIDS).
Flavor samples and the FIDS, including the maximum usage rate details, make it easier to develop batches of beverages that adhere to the TTB guidelines.
Trust National Flavors for TTB Approved Ingredients
Introducing new flavors for your alcoholic beverage line-up brings exciting tastes to your customers and boosts your bottom line. The federal government's regulations and requirements can often make the launch process seem overwhelming. That's why choosing a trustworthy company that understands the TTB process and provides quick solutions, like National Flavors, improves speed-to-shelf.
National Flavors takes pride in being the most customer-focused flavor company in the industry. Passionate about providing exceptional customer service, the National Flavors team relentlessly pursues creative flavor solutions to deliver delicious foods and beverages that stand out from the crowd.
Additionally, the National Flavors team has extensive knowledge of TTB applications and the approval process. The company has an inventory of hundreds of TTB approved flavors with samples that ship within 24 hours. Partnering with National Flavors is vital for your new and innovative beverage creations.