Consumers have always reached for snack bars as an on-the-go energizer and satisfier. As work and school shifted to home bases and activities diminished during COVID-19 in early 2020, the snack bar market changed rapidly. Now, with restrictions lifting, the snack bar market is showing clear signs of a rebound. Mintel predicts that the snack bar market in the United States will rise to pre-pandemic levels in 2022 and continue to grow through 2025. And while this growth reflects lessening impacts of the pandemic, the world of snacking is also evolving and creating room for bar innovation.
Snacking All Day Long
In a recent Mintel report, US consumers named their motivations for eating, such as energy, indulgence, and healthfulness. Depending on the daypart, respondents prioritized in different ways. For instance, indulgence was prioritized for late-night snacking, while energy and healthfulness were breakfast goals. For formulators who want to innovate in the snack bar category, messaging the targeted daypart in combination with associated benefits can inspire loyal consumers. Importantly, addressing a particular daypart doesn't limit consumption opportunities. "40% of US breakfast eaters consume breakfast food at other mealtimes." (Mintel)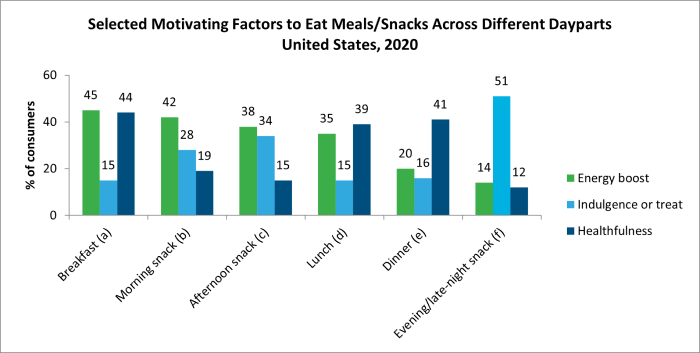 Base: US: internet users aged 18+: (a) 11,854 who have breakfast; (b) 1,334 who have a morning snack; (c) 1,920 who have lunch; (d) 1,635 who have an afternoon snack; (e) 1,970 who have dinner; (f) 1,616 who have a evening/late-night snack
Source: Kantar Profiles/Mintel, Nov 2020
Blurred Lines in Snacking
The functions and formats of snacking are changing, and snackers agree. Almost 4 in 10 Canadian snack consumers report blurring the lines between regular meals and snacks. (Mintel) Gone are the days of snack bars only providing a quick burst of energy as you leave the house. More consumers are adopting less traditional eating patterns, such as multiple short meals vs. the conventional 3 meals per day diet. Bars can now play a more prominent role in the eating landscape, especially at different times of the day. Consumers also want more from their snacks, including added nutrition, boosts to mood and wellbeing, and a strong sustainability story. Each trend represents an innovation pathway that manufacturers can follow to attract new consumers and build loyalty.
Snacking to Enhance Wellness
Mintel's recent report, Reduce Anxiety with Mood-Boosting Snack Bars, highlights ways manufacturers can enhance consumer well-being through anxiety management, indulgence moderation, and targeted health benefits. Focusing on these attributes and bringing them to life in snack bars through flavors, textures, and ingredients can allow brands to connect with consumers in new ways.
Choose the Processing Path
When creating snack bars, developers have two key processing methods to consider: cold-pressed and baked. Each method has a unique identity, formulating considerations, and production nuances. Understanding how these bars are made and how processing affects the ultimate appearance and taste will ensure developers achieve snack bar success.
Crafting Cold-Pressed Bars:
If you try to come up with the difference between cold-pressed and baked bars on your own, it's easy to imagine. A cold-pressed bar is crafted, as the name suggests: by leveraging binding ingredients and textural components and pressing them together to create a cohesive product without needing to heat the bar. Generally, the binding ingredients, such as corn syrups or rice syrups, will be heated on their own to create a caramel. After the binding ingredients cool, developers incorporate liquid flavor. Adding flavor to the syrup instead of the dry ingredients ensures balanced dispersion. Formulators mix the binders with dry materials, such as oats, grains, crisps, puffs, nuts, fruits, and inclusions.
A great way to picture a cold-pressed bar is to think of the classic granola bar (shown below). From a formulating perspective, cold-pressed production can be perceived as more straightforward since you don't have to adjust for the impact of the heat that comes with baking. Cold-pressed bars give developers more freedom when selecting ingredients and create fewer concerns about flavor flash-off (the dilution of flavor from heat).

Building Baked Bars:
As with cold-pressed bars, it's easy to get a sense of the production process for baked bars from the name. Baked bars are often created similarly to the cold-pressed counterpart, but the bars are baked when the ingredients are thoroughly combined. Formulators may adjust baking time and temperature depending on the texture goals for the finished good. Bars that bake longer will have a drier, crumbly texture, and bars baked for a shorter period will have a softer texture. No matter the baking time, formulators may need to incorporate more flavor or adjust the solvent to ensure the flavor holds up to the temperatures of baking.
Set Label Claim Goals
Like any other category in the food and beverage space, snack bar developers must innovate to keep pace with changing consumer needs. More consumers express interest in controlling what they put into their bodies. They're reading labels, evaluating claims, and researching ingredients to understand the effects of food and beverages on their health. Consumers' need for control has sparked a response from producers and an increase in added label claims such as sugar-free, high protein, and plant-based.
Sugar Free
When formulating for reduced sugar or sugar-free claim, developers must consider two main components, taste (sweetness) and texture (body). Removing sugar takes away the sweetness and the mouthfeel that sugar provides. FlavorSum Applications Scientist Roseanne McGuire says, "Sugar is magic in that way. It not only contributes to sweetness, but it works to create structure and hold everything together." So, how do you build back some of that magic? Through a delicate combination of flavors, sweeteners, and textural ingredients. Sweeteners can help achieve that recognizable sweetness profile, but many contain off-notes that flavors' masking functionality can address to ensure a just-right taste. Textural components can help build back any mouthfeel or binding benefits that sugar typically delivers.
Standout Statistic: Almost 60% of consumers believe it is important to reduce intake of ingredients they perceive to be bad for their health, such as sugar, salt, and fat. (Innova Market Insights)
High Protein
Snack bars are a category well primed for added protein claims as their historical function has been around energy and satiety. Over the past three years, bar launches with high/added protein claims have overwhelmingly featured whey, soy, cassava, and pea as protein sources. Emerging alternatives include broad bean, sunflower, and hemp. Formulators can tap into the idea of bars at different dayparts, or as small meals, by increasing the protein content to meet the dietary needs of consumers.
Standout Statistic: In the US, 17% of consumers eat products with added protein, with 30% claiming they haven't tried protein-enriched products but are interested in doing so. (Mintel)
Plant-Based
The plant-based movement is here to stay, and formulators in the segment must find replacements for traditional dairy ingredients without compromising on taste or eating experience. In the bars space, the dairy ingredients include protein (in the form of whey) and some of the binding elements, such as butter. By leveraging alternative proteins, such as fava bean, pea, or lentil, formulators can deliver on the plant-based claim, but they should stay vigilant about taste, too. Because plant-based proteins leave behind off-notes that may be undesirable, flavors can provide masking support. For instance, with a formulation that leverages pea protein, chocolate or peanut butter flavors help significantly reduce the earthy off-notes.
Standout Statistic: Nearly one-quarter of consumers have increased plant-based consumption in the past year. (Innova Market Insights)
Find the Right Flavor
Traditional Flavors
Formulators striving to ignite broad appeal among consumers can start with traditional snack bar flavors during the NPD process. Combinations like a classic oat and chocolate pairing in a cold-pressed bar or popular inclusions such as nuts can offset consumer apprehension about trying a new bar brand.
Classic Flavors on the Rise from 2020-2021:
Chocolate: +21.8%
Strawberry: +50.0%
Dark Chocolate & Peanut Butter: +37.5%
Blueberry: +50.0%
Marshmallow: +50.0%
Emerging Flavors Pairings
Formulators can experiment with flavor pairings to capture consumer interest in new and novel tastes. In 2021, we saw several flavor pairings launch for the first time. Bars' inherent composition delivers a combination of tastes and textures through inclusions or frostings, and so many consumers are more open to trying flavor varieties.
New Flavors Pairings in 2021:
Mint & Brownie
Marshmallow & Strawberry
Blueberry & Cashew
Dark Chocolate & Raspberry
Coconut & Fig
Navigate the World of Snack Bars with FlavorSum
Looking for support on your snack bar innovation journey to success? Leverage our extensive applications expertise by partnering with us on your next project! A partnership with our flavor experts can help you navigate development hurdles and speed time to market. Transform your snack bar idea into tangible (and delicious) results. Connect with our team to learn more!