The idea of purposeful eating emerged more than 2500 years ago. Yep, that's right – in the 5th century BC, the father of medicine, Hippocrates, linked food with health when he wrote: "In food excellent medicine can be found…" The use of food to enhance well-being retreated when modern drug therapies emerged in the 19th century. It wasn't until the early 20th century that the role of diet in disease prevention re-entered conversations. Regulatory agencies worldwide developed food consumption guidelines to help people understand how diet can reduce the risk of some diseases. And since the early 1990s, particularly in the United States, the manufacture of functional foods & beverages increased when government legislation loosened some requirements for substantiating health claims. The global functional food and beverage market generates more than USD 280 billion, and with a forecasted CAGR of 9.5%, it may reach USD 530 billion by 2028.
In 1994, researchers noted that consumers recognized the power of diet for self-care, and the trend remains one of the leading phenomena in the food & beverage industry. To learn more about the benefits consumers want from functional foods & beverages, the FlavorSum team recently conducted proprietary research in North America and highlights key findings below. Our study also examined the categories and ingredients associated with specific functional benefits; we'll share those findings in Part 2 of our summary.
How Consumers Categorize Functional Benefits
Although functional foods have no regulatory standard of identity in the U.S. or Canada, various organizations have outlined definitions that are becoming mainstream, such as:
"Foods that provide health benefits beyond basic nutrition." (International Food Information Council 2004).
"Any modified food or food ingredient that may provide a health benefit beyond that of the traditional nutrients it contains." (The Food and Nutrition Board of the National Academy of Sciences 1994)
FlavorSum's consumer research explored a wide range of functional benefits, and results show North Americans organize them into 4 sub-groups:
Baseline Health Benefits

Anti-aging/Longevity

Brain health

Gut/Digestive health

Heart health

Immunity support

Joint health

Health Enhancement

Alertness/Focus

Emotional well-being

Energy

Fitness performance

Hair/Skin/Nail health

Mood enhancement

Relaxation/Sleep

Weight loss/Management

"Free" From

Allergen-free

Gluten-free

Lactose-free

Remedies

Anti-inflammatory

Pain relief
Most North Americans are Interested in Functional Foods & Beverages
Roughly two-thirds of U.S. consumers have purchased or want to buy a functional food or beverage. Interest wanes across age groups. More Canadians, almost three-in-four, turn to food solutions to support their health, and although interest dips among 35 to 49 years olds, it reoccurs among older consumers.
% Interested in or Currently Purchasing Functional Foods & Beverages

Consumers' reasons for seeking out functional foods & beverages align with the overall intent of the products. Most consumers want to improve their overall health, while more than half are looking for immune support. Energy and mental acuity round out the top 4 goals.
Top Reasons to Consider Functional Foods & Beverages
Functional Benefit Priorities Center in Baseline Health
Interest is high in most of the functional benefits explored in the FlavorSum research. Top-ranked benefits that North American consumers look for address baseline health concerns. Health enhancements sought most often are solutions to boost energy and help with relaxation, with products to reduce inflammation (linked to immunity) rounding out the leaderboard.
Satisfaction with current functionality in foods & beverages is highest in the "free" from sub-group and many health-enhancement benefits. Widest gaps or opportunities to improve the consumer experience exist with products that address immunity, anti-aging, relaxation, anti-inflammatory, and joint health needs.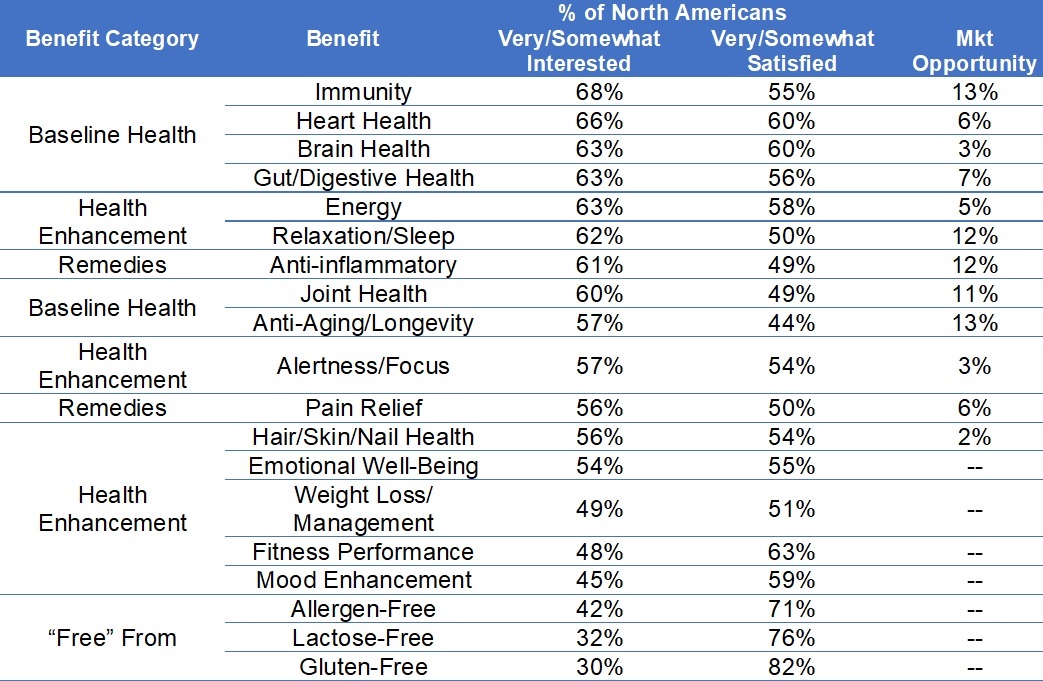 Examining results across the U.S. and Canada shows that interest in foods & beverages that support brain health, energy, and alertness is significantly higher among U.S. consumers. People in the U.S. also place more importance on health enhancements like emotional well-being, mood, fitness, and weight loss.
Format and Flavor Factor into Functional Product Purchase Decisions
While 65% of U.S. consumers and 56% of Canadians are willing to try new products to get a desired functional benefit, the product type and flavor influence choice.
Overall, less than half of respondents agreed the benefit outweighed the product form. Canadian consumers felt more strongly that product category would affect their decision, with only 36% choosing benefit over format.
Similarly, only 44% of all consumers prioritized benefits over flavor. Here, too, Canadians felt more strongly than Americans, with less than 4 in 10 Canadians said the functionality mattered more than the taste.
Attitudes About Functional Foods & Beverages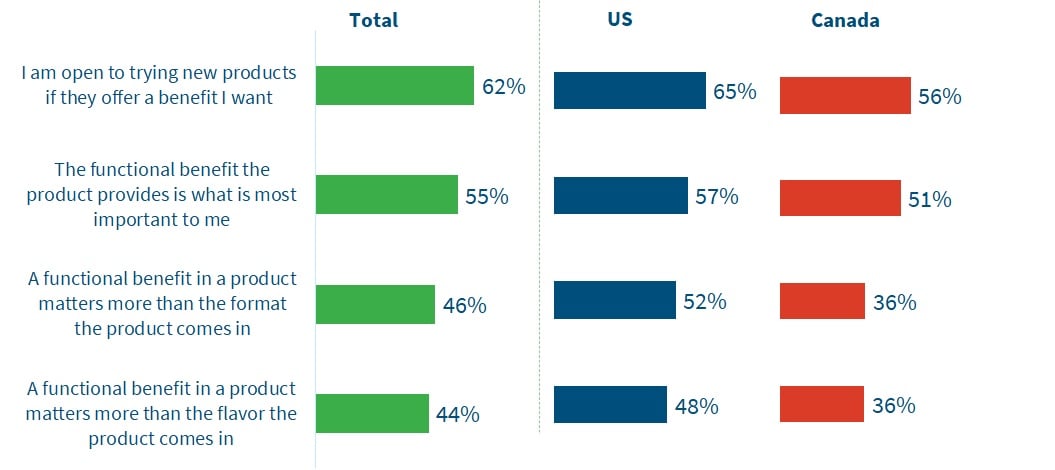 Skepticism, Price, and Disappointment are Barriers to Purchasing Functional Foods & Beverages
Among those unlikely to try products with functional benefits, skepticism is the primary reason for rejection. Skepticism includes beliefs that:
the products are fads

claims are unbelievable

benefits are unproven
Across all categories, 54% of North American consumers surveyed gave high marks to the functional foods & beverages they've purchased. Satisfaction is lower among Canadians, where only 4 in 10 said they are very or somewhat satisfied.
Among consumers who have purchased functional foods or beverages and are dissatisfied, the reason for not repurchasing stems from not realizing promised benefits. Since consumers often expect immediate results, benefits that require more time to manifest results, like anti-aging, may face more significant hurdles to achieve in-market success.

Price is also a dissatisfier for more than half of consumers who've tried products with functional benefits.
For consumers who've never purchased a functional product, perceived high price is the #1 reason cited by 6 in 10 non-buyers. They also have concerns about adverse side effects or interactions with other medications and supplements.
To learn more about consumer expectations of functional foods & beverages, look for part two of our research summary in the coming weeks. You'll discover more insights about the categories consumers turn to for health benefits and the ingredients they associate with different functionalities.
In the meantime, if you'd like to explore flavor solutions to support your functional food or beverage idea, contact FlavorSum. Our team of marketing, flavor, and regulatory experts is here to get your health-focused concept optimized for your target audience.