Clear skies, sunlit mountains, and the bright lights of Las Vegas created a welcoming backdrop for more than 11,000 visitors who gathered at Mandalay Bay for SupplySide West 2021.
Since launching in 1997, SupplySide West (SSW) has provided a focal point where the science and strategy of food & beverage development intersect. SSW consistently showcases cutting-edge scientific innovation, strategic educational programming, and networking opportunities to foster partnerships between participants.
The FlavorSum team attended the Expo and shared proprietary consumer insights at the Supplier Presentation Theater. Here are a few highlights from the event!
Fast Facts about SupplySide West 2021
SupplySide West partners with Food Ingredients North America to bring innovation-focused food, beverage, and supplement experts together from across the global nutrition and health sectors.
Professionals from 56 countries attended SSW in person and virtually through live-streamed sessions.
40 percent of attendees were first-time visitors to SSW.
The 5-day event featured 25 educational sessions and resource centers designed to bring timely news and relevant guidance about opportunities and challenges in food, beverage, and supplements markets.
Participation in the educational programs jumped 50 percent compared to 2019.
More than 700 exhibitors showcased ingredient innovations and food & beverage solutions.
The New Products Zone highlighted innovative ingredients and products from more than 20 companies.
And 2021 marked the first year that

SupplySide West hosted

recent NEXTY award winners

. Twelve of the emerging brands gained access to new suppliers, education, and networking opportunities.
Educational Seminar: Thriving Beverage Category Survived – and during a global pandemic
One of Tuesday's educational opportunities explored trends in the functional beverage market. Here are important insights from the session:
Forecasts estimate that the global functional beverage market will be worth $216 B by 2028.
Trends in the space include the following:

Sugar reduction. Consumer interest in lower-sugar beverages reflects a desire for fewer calories (which helps with weight loss), a preference for less added sweetness, and perceptions that sugar is unhealthy.
Plant-based options. Milk alternatives experienced 72 percent growth globally, led by almond milk with an estimated $1.5 billion in sales.
The market for vegan foods and beverages could reach $35.5 billion by 2027 as consumers focus on improving their health and diet with sustainable solutions.

Ingredients emerging in functional beverages are:

Adaptogens, ingredients that naturally lower cortisol levels and support consumers' ability to adapt to stress and reduce inflammation and pain.
CBD/Hemp extract to aid with relaxation, sleep, and pain relief.
Apple Cider Vinegar with natural prebiotics that could aid weight loss.
L-Theanine, a source of energy that supports alertness and originates naturally in green/black tea and some mushrooms.
Medicinal mushrooms with beta-glucans can aid with cholesterol and blood sugar management and support immune health and cognitive functions.
Protein, which continues to draw consumer interest for boosting energy, improving health, and satisfying hunger.

Adding purposeful ingredients to a beverage creates challenges for formulators around delivering delicious taste with good levels of functionality. Areas to review with your flavor company include:
And as FlavorSum's proprietary research reveals, many consumers have limited knowledge about the benefits delivered by emerging functional ingredients. Beverage manufacturers creating drinks with benefit claims can help with clear on-pack communication and educational efforts.
Mintel's research echoes the knowledge gap that FlavorSum discovered, with more consumers turning to beverages with ingredients they recognize and understand.
While flavors remain a crucial influencer of new food or beverage purchases across generations, Mintel consumer insights show that health considerations factor into the decision process.



And although hydration is the primary reason for buying beverages, consumers have recently responded to a range of functional benefits to support their health and well-being.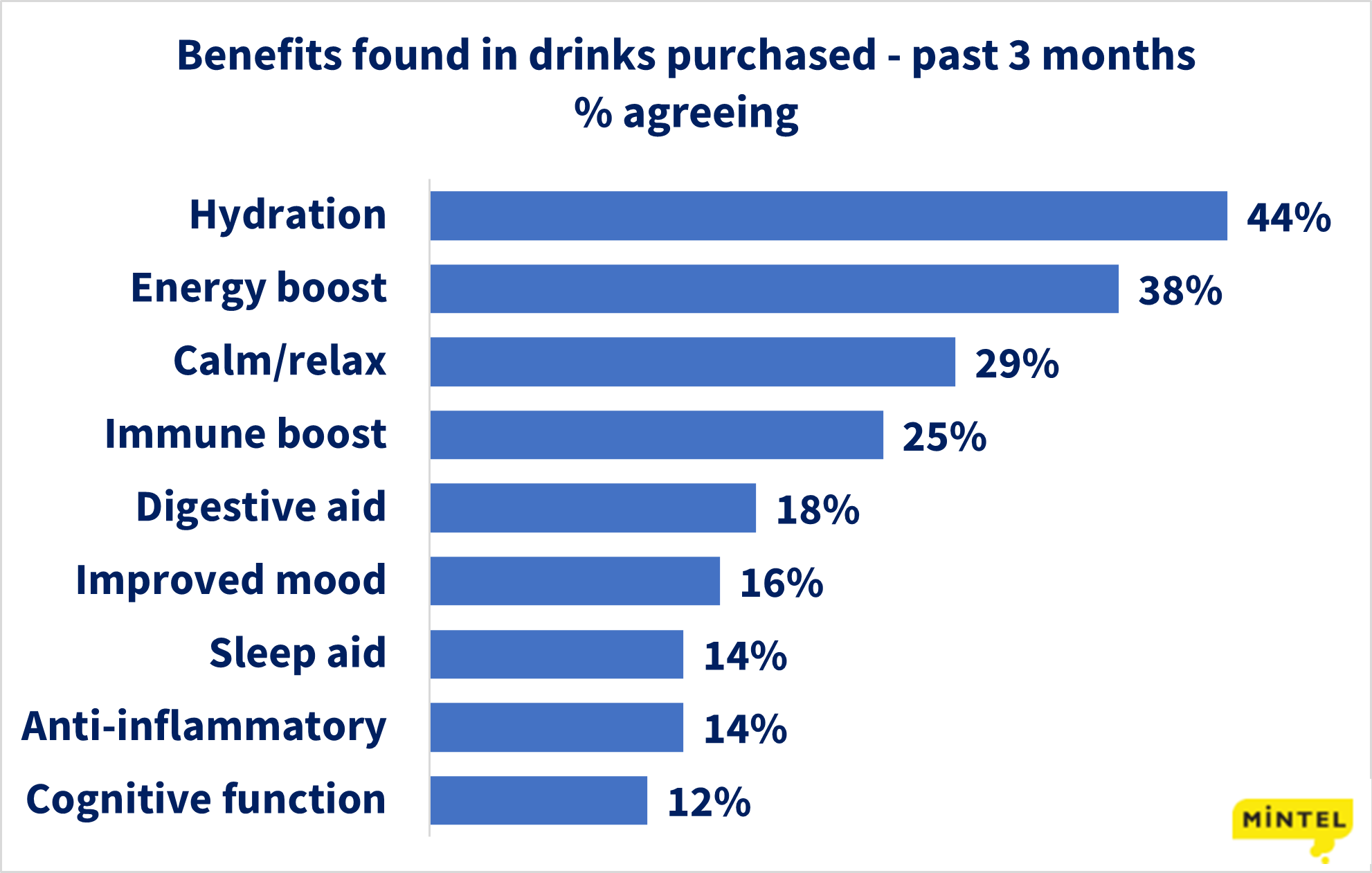 Younger generations have explored more types of functional beverages, with the highest use of enhanced waters and RTD coffees and teas. Older generations are also drinking functional waters and more turn to boxed tea with benefits than other drink options.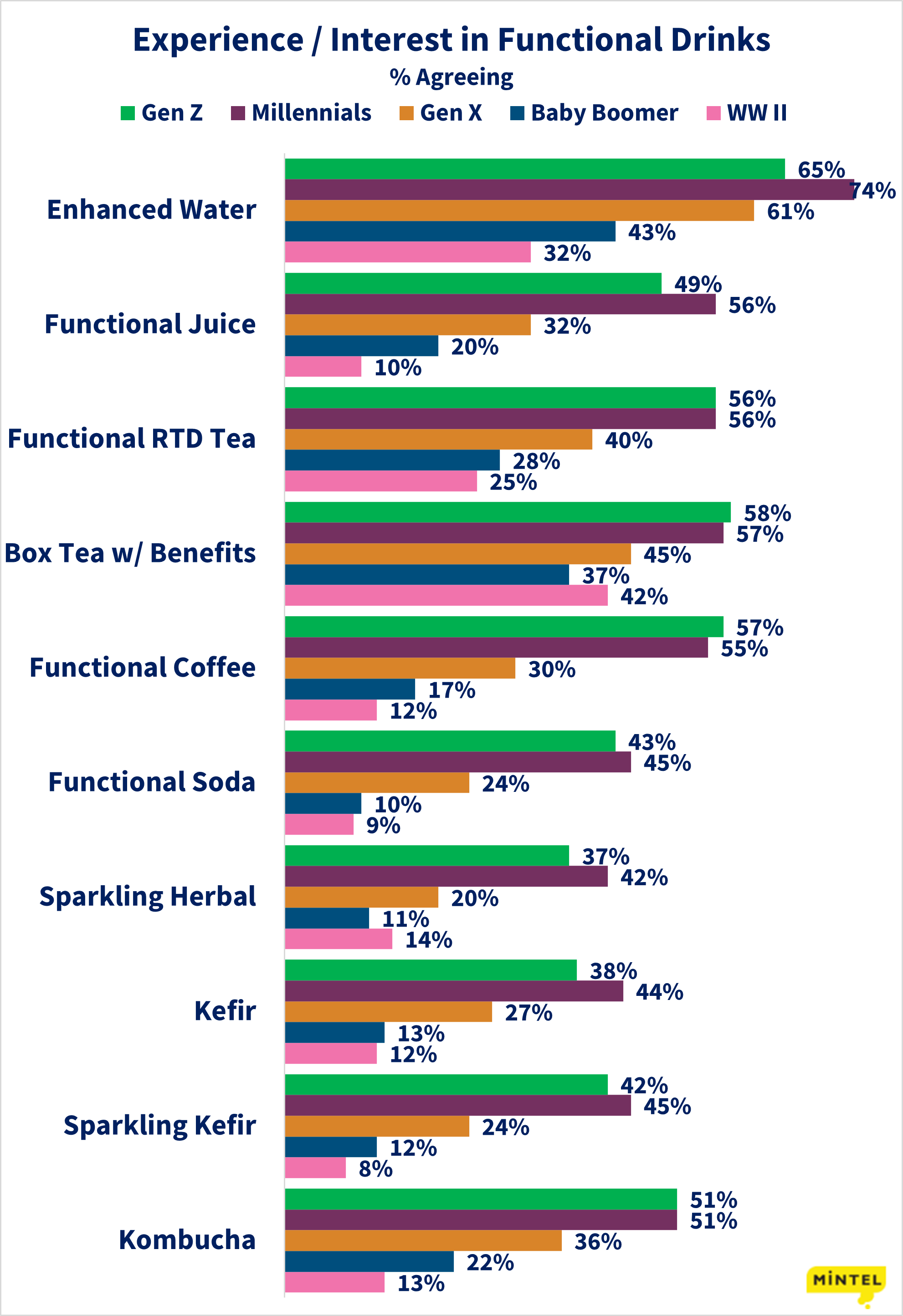 Craft Your Blueprint for Success in Functional Foods & Beverages with Insights from FlavorSum
During our SSW presentation, we showcased findings from our research with North American consumers. Insights from the study help identify 'white space' opportunities where foods & beverages with specific, desirable benefits aren't easy to find. We've also uncovered gaps in satisfaction with available solutions which represent other pathways to meeting consumer expectations.
Thanks to those who took time to attend our discussion. If you missed the session, you can learn more about how to create products that address consumer needs across categories, ingredients, and flavors. Download our e-book or watch our webinar to start crafting your NPD plan for success in functional foods & beverages.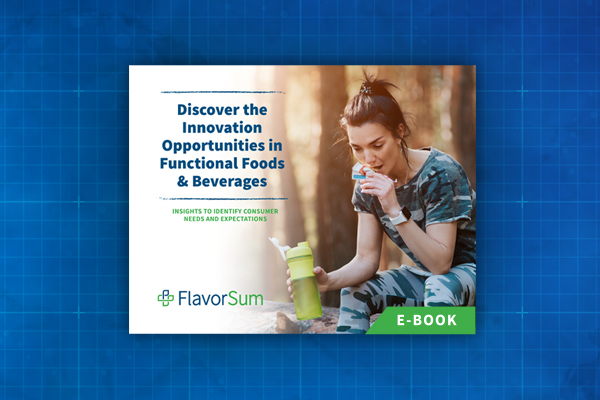 And contact our team if you'd like to discuss opportunities, flavor creation, or flavor optimization for your next functional food or beverage. We're here to help speed your time to market and support a successful (and delicious) launch!