July 11, 2022 marked the start of the largest trade show in B2B food and beverage, with the event reconvening for the first time since 2019. The Institute of Food Technologists (IFT) gathered around 17,000 industry professionals and over 700 exhibiting companies to showcase the latest innovations and learning in food and beverage. And though the expo has taken place for decades, the recently rebranded IFT FIRST (Food Improved by Research, Science, and Technology) event has evolved to keep pace with the dynamic food and beverage market.
FlavorSum at IFT FIRST 2022: The Intersection of Function & Flavor
Coming off a three-year hiatus, IFT FIRST 2022 offered an opportunity for some brands to showcase at the expo for the first time. Companies like FlavorSum, that unified National Flavors, GSB Flavor Creators, Bonnie & Don Flavours, and Whittle and Mutch in 2021, debuted to the food and beverage community. So, how did the FlavorSum team launch at IFT? With functional, delicious, and insights-driven refreshing beverage and snack bar concepts.
Why did our team focus on functionality? In 2021, we conducted proprietary research on functionality in food and beverage. We found that 63% of Americans and 74% of Canadian consumers actively seek functionality from food and drink. To showcase how flavor and function can work together to deliver a consumer-preferred product, we sampled demos with different trending functional claims.
Immunity to Target Healthfulness:
Standout Statistic: Nutritional drinks and other beverages with immune system claims grew 22% from 2016-2021. (Mintel)
FlavorSum IFT Concept: Healthful dark berry and citrus morning drink with vitamin c for an immunity boost.
Alertness for a Burst of Energy:
Standout Statistic: In the US, 42% of adults who drink energy drinks had increased their consumption of energy drinks in Feb 2021 compared with Feb 2020. (Mintel)
FlavorSum IFT Concept: Vibrant citrus and tropical flavored mid-day drink featuring green tea extract for an invigorating sip.
Post-Workout Recovery to Get Back Out There:
Standout Statistic: 50% of US consumers have used sports drinks after workout/exercise in the past six months. (Mintel)
FlavorSum IFT Concept: Classic and flavorful citrus and berry pairing with electrolytes for a post-workout refreshing beverage.
Restful Relaxation to Decrease Stress:
Standout Statistic: 87% of US consumers aged 18-24 have experienced any mental health condition. (Mintel)
FlavorSum IFT Concept: Mood-boosting combination of rich berry, honey, and botanical flavors with support from l-theanine to deliver a refreshing beverage with relaxation support.
Protein Enhanced to Fuel Consumers:
Standout Statistic: In the US, more than one-quarter of consumers have increased their protein intake in the past 12 months. (Innova Market Insights)
FlavorSum IFT Concept: Novel tropical flavored snack bar concept with added fava bean protein to support satiety.
Organic to Meet Label Claim Goals:
Standout Statistic: 52% of U.S. consumers believe organic foods and beverages are healthier than products that are not organic. (Innova Market Insights)
FlavorSum IFT Concept: New-to-retail flavor pairing in a snack bar that leverages classic berry and brown notes to provide permissible indulgence.
Classic Indulgence for On-The-Go Fuel:
Standout Statistic: The snack bar market in the United States will rise to pre-pandemic levels in 2022 and continue to grow through 2025. (Mintel)
FlavorSum IFT Concept: Globally inspired citrus flavor and sweet dates upscale the traditional snack bar experience with a bright twist.
Are you interested in sampling one of our functional flavor pairings demoed at IFT? Reach out to our team to learn more.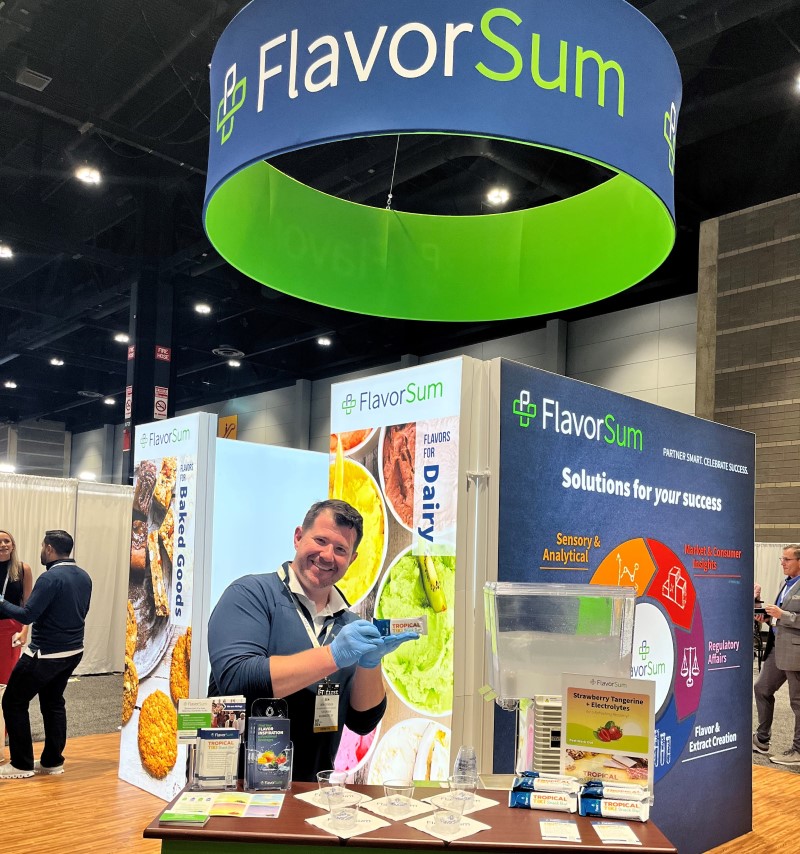 Overarching Themes from IFT FIRST 2022
Trendspotting: Sustainability to Protect Our Future
Much of the discourse at this year's IFT FIRST expo centered around the event's overarching topic: "Hacking the Food Supply: Can We Synthesize a More Sustainable Future." The opening debate, "Should We Eat More Processed Foods," explored solutions. While "processed" often carries a stigma, many industry professionals believe advancements in processed foods clear a path towards a sustainable future for our growing population. How can developers help diminish the negative reputation around processed foods? Louise Wicker, adjunct professor, School of Nutrition and Food Sciences, Louisiana State University, says, "the industry needs to increase transparency and accountability." And consumers need to be educated about and comfortable with new technology in the food and beverage space.
Trendspotting: Playful and Curious Innovation
Day three's keynote, "Cultivating Curiosity: The Key to Unlocking Innovative Solutions to Complex Problems," inspired formulators to maintain an open mind about innovation. The interactive session led by Evette Cordy, CEO of innovation studio, Agents of Spring, indicates that many organizations aren't focused enough on the long term. So, how can individuals achieve innovation success through a curiosity mindset? Cordy suggests, "[you] need to adopt a beginner's mind, leave [your] ego at the door, and be prepared to ask … questions." From there, individuals can scale learnings up through their organization.
Trendspotting: Food Labeling Overhaul
With only 5-10% of consumers truly reading food labels, it's not surprising that industry professionals are pushing for a revamp or possibly a reinvention. (Sustainable Packaging Research, Information, and Networking Group) In the IFT FIRST session, "What Role Does Labeling Play in Educating Consumers," panelists discussed approaches to displaying vital information because the average consumer isn't reading food labels. Stacey Cox, director of insights, North America Core Capabilities & Accelerators at Kraft Heinz Co., says of the busy and fatigued consumer, "You really need to unpack who is this person, what's their situation… They're making very split-second decisions on very small packages." (Food Business News)
Trendspotting: Responding to Supply Chain Woes
What's been top of mind for food and beverage suppliers and manufacturers over the past few years? Supply chain challenges. Panelists at the IFT FIRST session, "Rearranging the Dominos: How Food Development is Responding to Inflation and Supply Chain Challenges," noted the unexpected benefits that may emerge from chaos. Jeff Grogg, JPG Resources managing director, shared, "Current challenges with the supply chain and inflation could contribute to a more 'robust and interconnected ecosystem instead of an ecosystem that's very transactional.'" (IFT) The panelists recommend a solutions-minded approach to reconciliation with a focus on the future of the supply chain.
Trendspotting: Diversity, Equity, and Inclusion Initiatives are a Mainstay
If you've visited LinkedIn's online platform in the past year, you've heard of the great resignation. The mass reshuffling of professionals has caused employers to think about gaps and reprioritize. In the IFT FIRST session, "State of The Profession: Unlocking Excellence through Inclusion in a Diverse Team," industry experts shared why prioritizing DE&I initiatives leads to job satisfaction and loyalty. It's not enough to survey and listen. Vice-chair at European Women on Boards and Barilla's former chief DEI Officer, Kristen Anderson, says, "You've got to do something with it. People want to see actions; they want to see improvements."
Achieve Food and Beverage Innovation Success with FlavorSum
Mark your calendars for IFT FIRST 2023, scheduled for July 17-19, 2023, back in Chicago, IL! If you need support transforming your food or beverage concept into reality, achieving your flavor, label claim, and formulating goals is within reach! Our flavor experts and applications team have the knowledge and tools to help you meet your flavor goals without compromising nutrition, taste, or eating experience. Reach out to our team to learn more.