The trade show world is back in full swing! After a two-year hiatus due to the pandemic, Natural Products Expo West came back in full force last week, with an estimated 57,000 attendees. The jam-packed event took place over five days in Anaheim, CA and featured around 2,700 exhibitors showing the latest innovations in the health and wellness space. Exhibitors primarily showcased natural and organic products ranging from food and beverage to personal care and supplements. Expo West always presents a great opportunity to preview what's new and upcoming, and this year met expectations with around 600 brands showcasing for the first time.
According to New Hope Network, the natural and organic industry grew 7.7% to $274 billion in 2021 and is forecast to surpass $300 billion in sales by 2024 and $400 billion by 2030. So, what are the latest trends driving this growth? Let's take a look at what Expo West 2022 had to offer.
What's New in Organic and Natural?
This year's keynote address, "The State of Natural & Organic," warmly welcomed the community back and showcased what's new and noteworthy in the space. The discussion highlighted a powerful shift in consumers since COVID-19—with behaviors changing to focus more heavily on health and wellness and it's likely a permanent change. Wellness-positioned brands are experiencing higher growth rates than brands with conventional products.

Source: SPINS Total US Natural Enhanced Channel + Conventional Multioutlet, 52 Weeks ending 1/23/2022
Natural or wellness positionings are showing up in traditional 'junk food' categories, such as chips, ice cream, and candy. Formulators are finding unique ways to bring healthfulness to these treats with labeling such as keto, plant-based, and reduced sugar. These wellness-focused treats are blurring the lines of traditional snacking. Healthier options for quick bites feed into consumers' increased snacking frequency, with snacks sometimes replacing three large meals. Mintel reports that 38% of Canadian snackers agree that the line between regular meals and snacks is becoming increasingly blurry.
What Key Trends Did Natural Products Expo West 2022 Spotlight?
Functionality
In the natural and organic space, functionality is driving significant growth. According to our recent proprietary study, 63% of Americans and 74% of Canadians are actively looking for functionality in their purchased foods and beverages. As consumers continue to seek more from food and drink, we expect to see an uptick in products incorporating unique functional ingredients. The keynote address specifically highlighted the top purpose-driven ingredients, including
Electrolytes
Mushrooms
Adaptogens
Healthy Fats
Prebiotics
While these ingredients are showing up across the food and beverage landscape, beverage, frozen, and snacks are top categories driving growth for products with functional claims.
Sustainability
Sustainability has been a growing trend in the food and beverage space over the past few years. But what does sustainable actually mean when it comes to food and beverage? For brands featured at Expo West, sustainability can mean ensuring fair treatment of animals, confirming the welfare of populations sourcing raw materials, or leveraging upcycled ingredients. About 20% of exhibitors at the show featured some sort of sustainability messaging on their products, with some calling out the word "sustainable" directly on the package.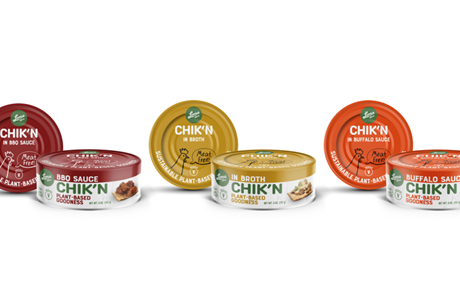 Source: https://www.foodbusinessnews.net/media/photos/4354-new-products-from-natural-products-expo-west-show
Plant-Based
Plant-based formulators continued to sprout innovations across the food and beverage space. According to the keynote address, "eat more plants" was the number one trend at the show, representing 10% of exhibitors. From cheese to bacon to ice cream, dairy-free alternatives popped up everywhere on the show floor. And it's no surprise that brands are prioritizing dairy-free, with nearly one-quarter of consumers increasing plant-based consumption in the past year. (Innova Market Insights)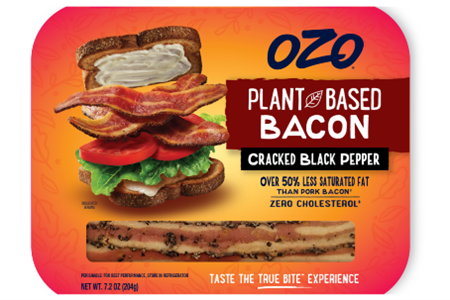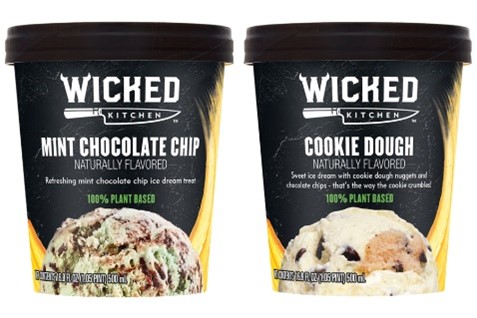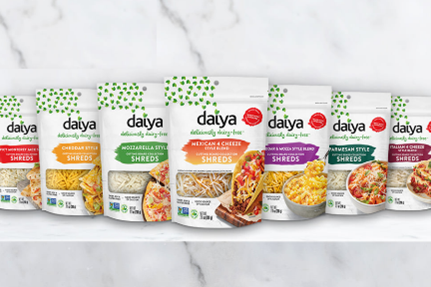 Source: https://www.foodbusinessnews.net/media/photos/4354-new-products-from-natural-products-expo-west-show
Sugar Reduction
Did you know that 76% of Americans are trying to eat less added sugar? (New Hope) The exhibitors at Expo West sure did! Exhibitors featuring 'sugar vilified' labeling accounted for 8% of the show, placing sugar reduction in 2nd place on the positioning leaderboard. This type of labeling includes anything from:
No Added Sugar
Reduced Sugar
Zero Sugar
Unsweetened
Sugar-Free
Low Sugar

Source: https://drinksanzo.com/
Many products featuring 'sugar-vilified' labeling made additional claims, such as a dairy-free, sugar-reduced protein bar or vegan cookies with no added sugar. The mingling of claims confirms that free-from labeling goals are not mutually exclusive. In fact, nearly 60% of consumers find it important to reduce intake of ingredients they perceive to be unhealthy, such as sugar, salt, and fat. (Innova Market Insights)
Deliver Your Next Delicious and Nutritious Product with FlavorSum
Mark your calendars for Expo West 2023, scheduled for March 7-11, 2023, back in Anaheim, California! If you need support transforming your functional food or beverage idea into a product, achieving your ideal flavor profile that fits your label claim goals is within reach! Our flavor experts and applications team have the knowledge and tools to help you meet your flavor goals without compromising on nutrition, taste, or eating experience. Reach out to our team to learn more.