Functionality is an expansive trend in food and beverage—and has strong staying power. More people are demanding functional benefits from the items they purchase and consume. But just how big is the category, and will it reach a plateau? In the functional beverages category, we see no signs of slowing growth. In 2020, the US functional beverage market was valued at $48.4b and is forecast to grow at a 6.6% compounded annual growth rate (CAGR) through 2025 to reach $67b. With this fast-paced trajectory comes a significant opportunity for brand innovation. Let's explore the benefits consumers desire from functional beverages and how thinking through your goals and formulating process can set you up for a successful launch!
What are the Biggest Trends in Functional Beverage?
According to a FlavorSum proprietary study, 56% of US adults are looking for purposeful beverages. In that same study, we sought to understand the most desirable functional benefits. Energy, alertness, and mood topped the chart. Not included in the top ten is ingestible beauty, which is quickly picking up pace. According to Mintel, over the last five years, global food, drink, and supplement launches with functional beauty claims increased 78%.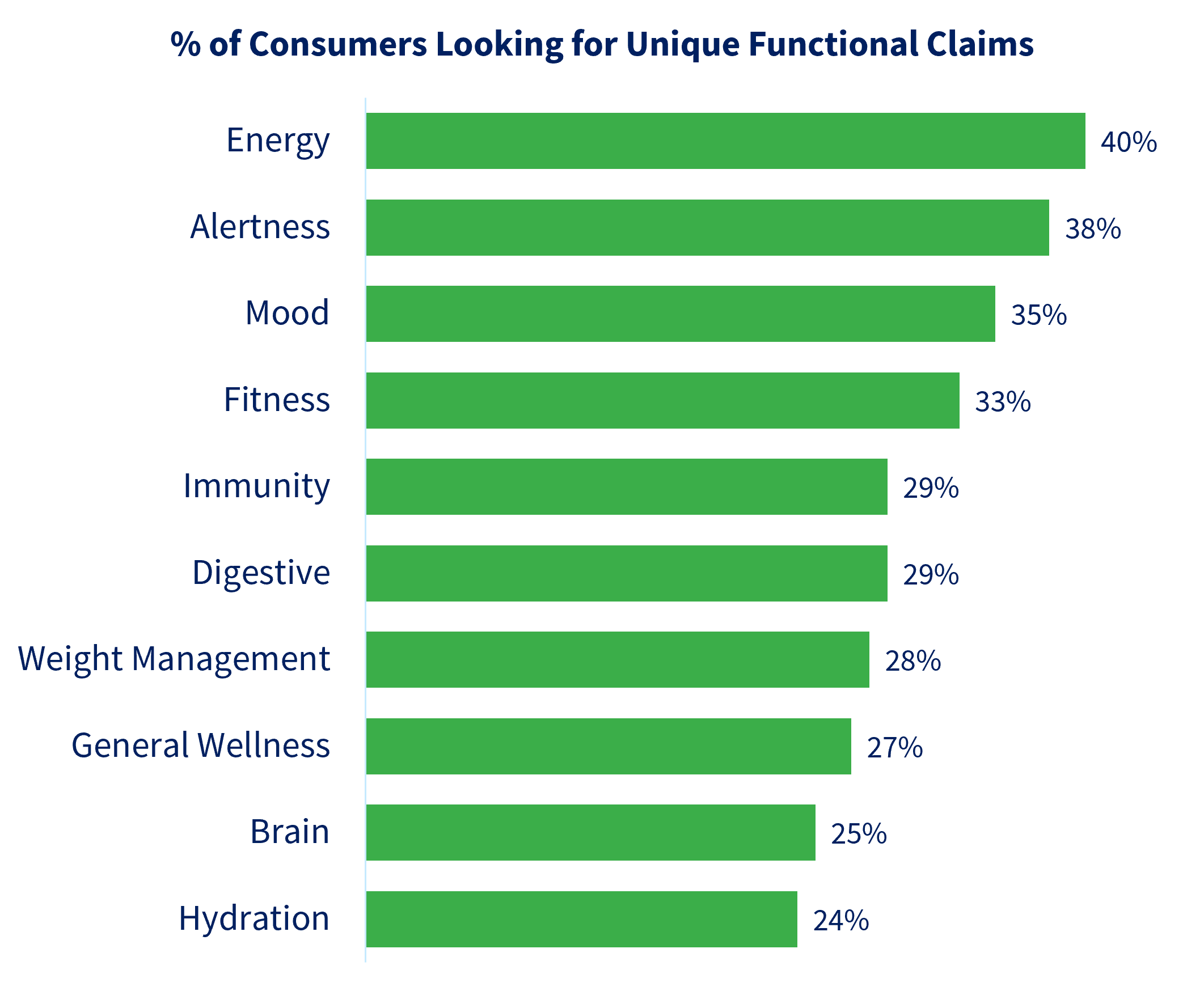 With a wide range of frameworks for functional delivery, formulators are tasked with creating beverages that deliver benefits and a great drinking experience. We sat down with FlavorSum functional beverage experts Blake Lyon and Pete Sauer to understand the nuances of formulating a refreshing functional beverage without compromising taste, mouthfeel, or nutrition.
Formulating Interview with FlavorSum Experts
What is a refreshing functional beverage?
Pete: When developing a functional beverage, you have two key routes you can take: creamy, like a standard protein beverage or a coffee drink, or refreshing, like an isotonic beverage or energy drink. Consumers have different expectations for the two beverages, including what functional benefits they can expect and the nutritional details. In a creamy beverage (whether it's plant-based or dairy-based), consumers expect higher calorie content from the base and thus more satiety benefits. In a refreshing drink, consumers are looking for hydration and may be interested in a calorie-reduced offering that might come from removing sugars. What is the first thing formulators should consider when beginning a functional beverage project?
Blake: It might seem like a no-brainer, but developers need to first confirm what functional benefit they hope to deliver in their beverage. Determining that detail will impact almost every aspect of production, such as label claims, shelf life, additional ingredients needed, flavor selection, and color. At FlavorSum, we think of functionality in four major categories: baseline health benefits (like heart health), health enhancement (like energy), free-from (like sugar reduction), and pain management (like anti-inflammatory). Understanding which benefit or benefits you want in your finished beverage will allow your partners to better support your formulation process. Once you outline the functional benefit, the next step is to figure out which ingredient you hope to use. For instance, in an energy drink, you could use caffeine, but also guarana or another ingredient with stimulating properties. The formulation process is iterative, so you may change your ingredients, but this gives you a good starting position to kick things off.
How are refreshing functional beverages produced?
Pete: Whether you're packaging in a glass bottle, plastic bottle, can, or something else, there are generally two production routes a developer can go down: hot fill (or pasteurization) or chemical fill. Hot fill technology works to extend the shelf life of a beverage through high heat pasteurization to remove any microorganisms. After you heat the beverages to the ideal temperature, they are capped and quickly cooled. This type of production might be appealing to formulators looking to achieve a cleaner label, since it usually means that preservatives aren't necessary. The main challenge with hot fill technology is that it can add cost to your production process. For developers who want cost savings while still meeting their shelf life goals, chemical fill technology may be the right choice. A chemical fill provides the same benefits as a hot fill but uses preservatives to ensure no microorganisms live in the beverage.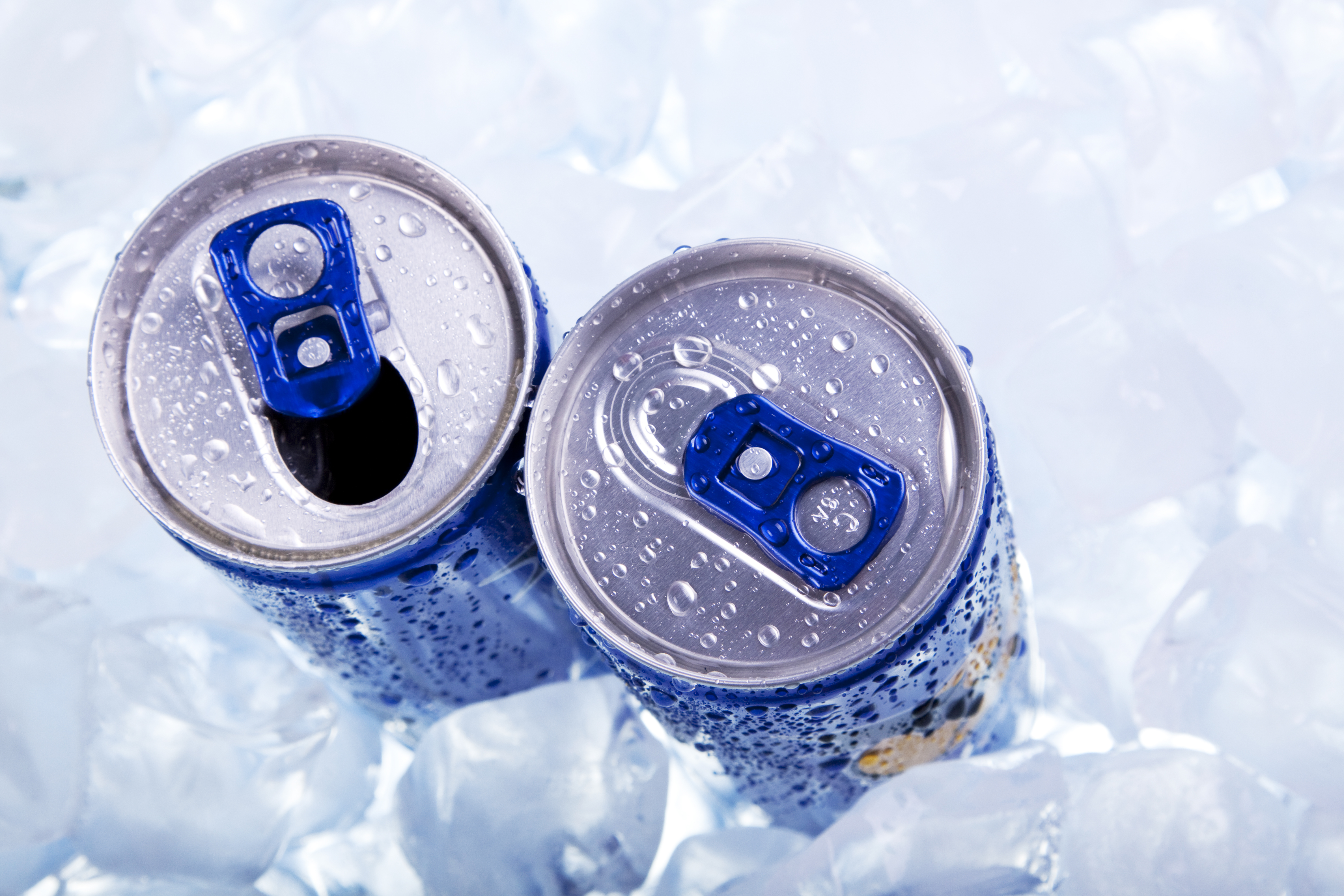 How should developers be thinking about flavor when it comes to functional beverages?
Blake: Flavor selection is a unique process with functional beverages because of the added ingredients that may impart unique flavor notes. When we meet with functional beverage formulators, the first question we ask is, "do you want to mask the functional ingredient, complement it, or enhance it?" Some brands don't want to mask the natural notes of the functional ingredients, even if they are not considered traditionally appetizing. For instance, with CBD, consumers might equate the earthy notes to a more potent and functional product. Some formulators will come to us and have an idea of where they want to go for flavor, but others will rely on our insights team and flavor experts to provide guidance based on the functional benefit. Flavor plays a big role in the perception of functionality. For example, consumers link citrus fruits to immunity or lavender to sleep success.

What are some other considerations when formulating a functional beverage?
Pete: When I'm working with functional beverage developers, I always remind them to execute packaging trials. There is nothing worse than ironing out your formulation and then scaling up, only to find the pH in the product breaks down the can. Executing packaging trials early and often will avoid this trouble altogether and prevent reformulation or having to select new packaging. I also like to remind our partners that while it might seem like a good idea to refrigerate your beverage, there can be several hurdles to jump through with a chilled product. Challenges include refrigerated storage at your facility, refrigerated shipping that comes at a steep price, and fighting other brands for the limited refrigerated beverage space in the grocery store. Some beverages require refrigeration, but you really need to work out these details early in the process.
Blake: I always recommend developers think about how they want the beverage to be perceived, especially in a functional drink. For instance, while it may seem like a given that you'd want to avoid visible particulates in a beverage, some consumers associate those loose ingredients with healthfulness. These types of beverages will be labeled with a "shake well" before use. The same goes for viscosity. Some functional ingredients will naturally impact the mouthfeel of the finished beverage, but developers may choose to intentionally increase viscosity to improve the perception of heartiness or for another reason altogether. Having these details ironed out ahead of time helps tremendously when creating the base formulation.
Partner with FlavorSum to Fill Up on Success in Functional Beverages
Whether you know where you're taking your functional beverage or want support from our insights and flavor experts, FlavorSum is here to make your ideas a reality. Speed your time to market by leveraging our complete solutions capabilities. Reach out to a FlavorSum team member to learn more.