The functional beverage market is bubbling up! According to Precedence Research, the $129.3 billion global functional beverages market could grow at an 8.94% CAGR from 2022 to 2030. And North America currently captures about 43% of that market.
To understand what's driving the fast-paced growth in the functional beverage space, we start by examining the behaviors and needs underlying demand. After all, 63% of Americans and 74% of Canadians are actively buying, shopping, or interested in functional benefits. (FlavorSum Study)
Let's look at the functional claims that are most appealing to people and the motivations behind purchasing functional products.
Consumer Spotlight: Why are People Reaching for Functional Beverages?
Activity Support to Inspire Movement
From a boost to get moving to a refreshment to recover, the functional beverage category plays a big role in exercise and movement. And, since COVID-19 put a spotlight on health, many people (more than 50% of Americans, according to Innova) are trying to incorporate more activity into their weekly routine. The versatility and variety of the beverage category can support virtually every aspect of workout experiences—before, during, and after.
Standout Statistic: 63% of consumers believe that physical activity, exercise, and fitness are methods of staying healthy. (Innova)
The chart below explores the range of products in the beverage category that provide exercise support. Hydration products come in at the top, with 41% saying they use them often or always, but the other segments aren't far behind. Not shown, but gaining traction are products that enhance focus and build the motivation to begin the workout, along with stress relief offerings that buttress the relaxing properties of the post-workout experience.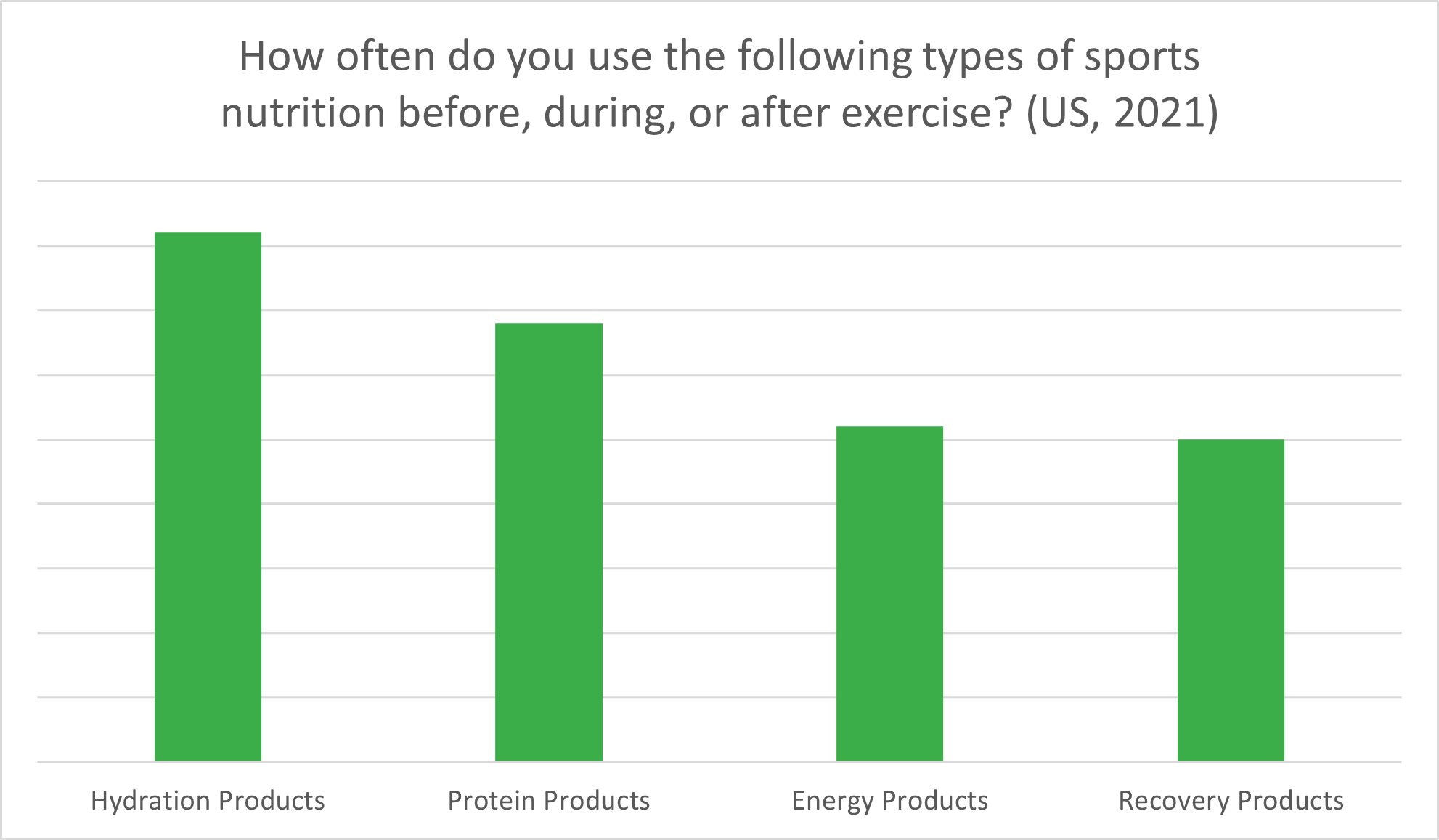 Innova Market Insights Health & Nutrition Survey
Functional Variety for Lifestyle Alignment
The beverage format is ideal for functional benefit delivery— drinks are easy to consume, portable, and (usually) tasty. And with so much variety and appeal within one category, it's easy for people to discover products to try and repurchase. As beverage innovators dip into different benefits (even those less common for beverages like pre- and probiotics), they connect with those who want purposeful drinks.
Of the beverage subsegments within the functional category, many are growing and could continue to build sales through 2025. The chart below shows some of the subsegments experiencing the most significant growth.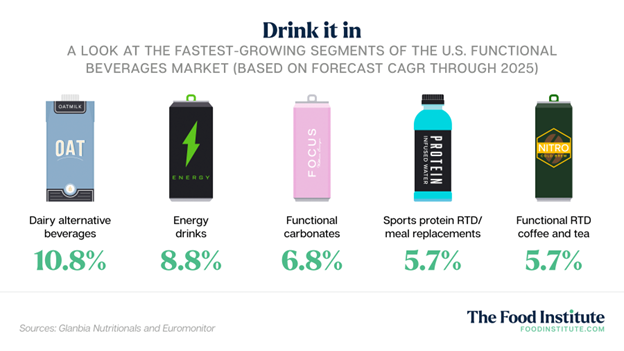 Increased Benefit Education to Support Health Goals
Food and beverage professionals share responsibility for educating people about the benefits they can receive from what they consume. As knowledge increases, people will have higher expectations for foods and drinks.
Some developers are responding with what Innova calls "nutrition hacking" or including "detailed explanations of how key ingredients function to establish authority and credibility." The result is a cycle of need where people begin seeking added benefits, and developers respond with innovation. And with more people prioritizing wellness, beverages play a significant role in the full health picture.
Standout Statistic: 79% of consumers believe that wellness is important, and 42% consider it a priority. (McKinsey)
Consumer Spotlight: What Health Benefits Do People Want from Functional Beverages?
Benefit delivery occurs in many formats, such as confectionery products, pills or capsules, beverages, baked goods, and other foods. We polled North Americans to understand the functional benefits they think fit best with cold, non-dairy beverages.
Our study reveals that people are turning to cold beverages to wake up (no matter what time of day), with energy and alertness topping the list. Other top benefits include support for baseline health (like immunity) and drinks that deliver health enhancement (like emotional well-being).
Top Benefits that Fit with Cold Beverages
Energy
Alertness/Focus
Mood Enhancement
Fitness Performance
Gut/Digestive Health
Immunity Support
Weight Loss/Management
Lactose-Free
Emotional Well-Being
Brain Health
FlavorSum Proprietary Study. Base = Interested in Trying At Least One Product
Flavor Focus: What Are The Trending Flavors in Refreshing Functional Beverages?
The chart below explores the top flavors from functional beverages across the most desirable benefits. Classic beverage flavors, like berries and citrus resonate across the board, but data shows that consumers are up for flavor exploration.
Flavor pairings like lemon echinacea in an immunity beverage or chamomile lavender in a stress drink can showcase how functionality and flavor can partner to display a benefit more strongly. At IFT 2022, the FlavorSum team tapped into this experience with our Elderberry Citra Hops beverage concept for a boost of immunity. The elderberry flavor component was an instant nod to the immunity benefits offered in the prototype.
Top Flavors Launched – North America – 2018-2022 Across Beverages with Functional Benefits (Mintel)
Energy
Digestive
Brain
Immune
Stress & Sleep
Chocolate
Berry
Berry
Chocolate
Tart Cherry
Vanilla
Sweet Orange
Watermelon
Sweet Orange
Matcha
Berry
Ginger
Lemon
Vanilla
Rose
Watermelon
Grape
Sweet Orange
Berry
Ginger & Lime
Sweet Orange
Citrus
Lemon & Lime
Watermelon
Lemonade
Partner with FlavorSum to Inspire your Functional Beverage Launch
Are you exploring solutions that enhance the flavor and function of your refreshing beverage? Great partners can make all the difference. FlavorSum can help you take your functional beverage concepts to shelf faster, supporting you from flavor ideation and creation to scale up and commercialization. Reach out to our team to learn how we can support your needs.