Over the past two years, we've seen an uptick in consumers prioritizing health. According to Innova Market Insights, over half of consumers took active steps to improve their physical health in 2020.
With their bite-sized and fun format, gummies are becoming more popular as delivery systems for nutritional boosts.
According to SPINS data, sales of gummy supplements grew 23% to $2.63 billion for the 52 weeks ending Dec. 26, 2021.
About 4 in 10 US consumers prefer taking vitamins, minerals, or supplements in gummy form, according to a 2021 market report from Mintel.
And innovation is increasing, with gummy vitamins/minerals/supplements representing almost 2 out of 10 VMS launches in 2021. (Mintel)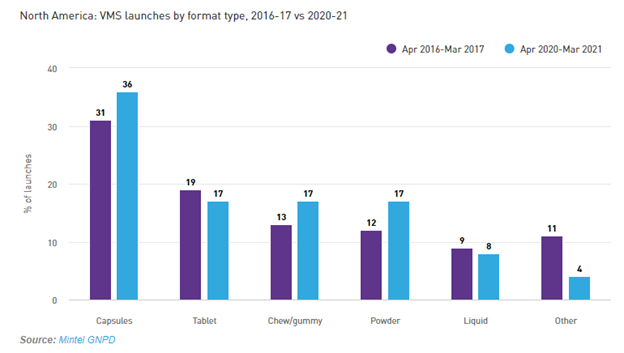 So, how do formulators ensure their functional or fortified gummy is on the regular grocery list? Let's explore trending flavors and functionalities to learn more.
What's Driving Innovation in Fortified Gummies?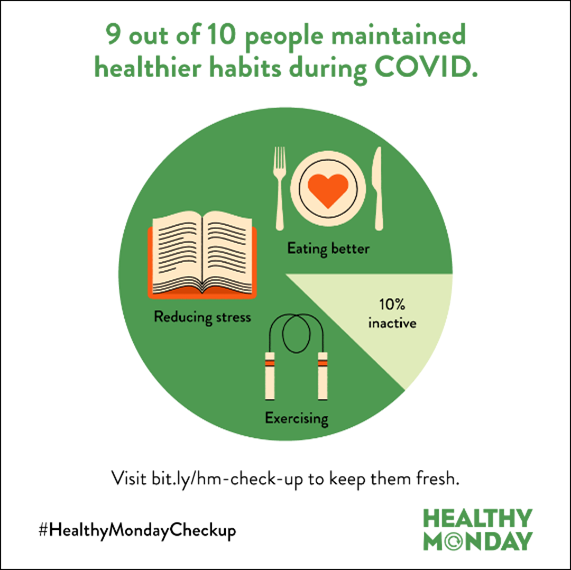 Most consumers (89%) plan to adhere to the health and wellness goals established in the past 2 years and maintain a more proactive approach to physical and mental well-being. Foods and beverages offer an opportunity for health, satiety, and enjoyment to merge, with fortified gummies representing additional support.
When asked about criteria affecting food and drink choices, 57% of respondents in a recent Innova survey said that "it is good for my body" tops the list. Respondents also prioritized functional benefits such as energy, mood, and brain health.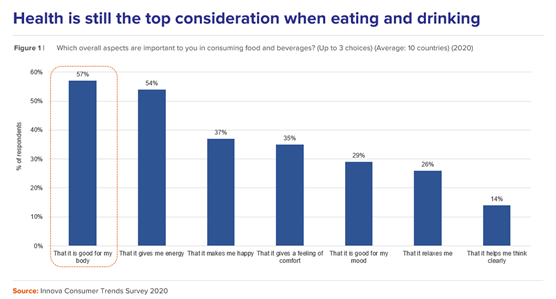 Interest in purposeful or functional foods continues to expand as people learn more about nutrition. Consumers polled by Innova Market Insights were asked how their health worries have evolved. Many respondents shared that immunity and mental health are top priorities and cited weight control and aging as additional focus areas. We recently executed a proprietary study on functionality to better understand consumer needs. We found that North Americans organize functional benefits into four main sub-groups and view VMS as a 'go-to' solution for specific goals:
Baseline Health Benefits that keep the body strong

Anti-aging/Longevity
Brain health
Gut/Digestive health
Heart health
Immunity support
Joint health

Health Enhancement to boost the body's performance

Alertness/Focus
Emotional well-being
Energy
Fitness performance
Hair/Skin/Nail health
Relaxation/Sleep
Weight loss/Management
Stress relief

"Free" From to remove ingredients that impair function

Allergen-free
Gluten-free
Lactose-free

Remedies to manage pain

Anti-inflammatory
Pain relief
Condition-specific gummy formulas outpaced the overall gummy VMS category with 30% growth in 2021. Gummies with the most significant gains focused on calmative and mood support (192.7%), cognitive health (184.4%), sleep (51.1%), energy (32.5%), digestive health (pre/probiotic (18.7%)), and beauty (16.3%).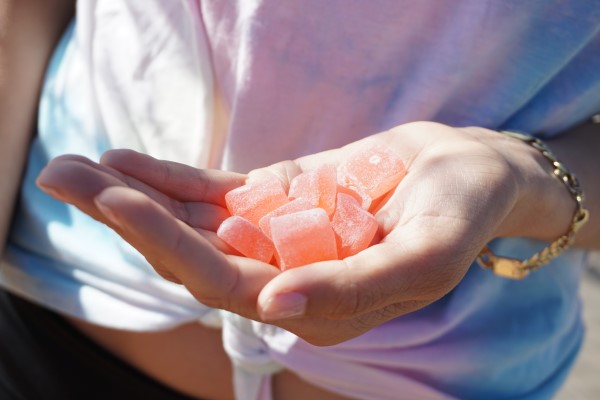 What are the Formulating Basics for Gummies?
A gummy formulation includes gelling agents, sweeteners, acidulants, colors, and flavors. The production process usually begins by adding a hydrated gelling agent, whether gelatin or a hydrocolloid like pectin, to a hot sugar slurry. Producers cook the mixture to an appropriate temperature or Brix, then add flavor, color, acidulants, and functional ingredients before depositing. They deposit the gummy mixture into molding equipment to set.
When starting any gummy project, begin by confirming your gelling agent of choice. The 'base' ingredient or ingredient blend gives the gummy a specific (and familiar) chew that drives the eating experience. Choosing your gelling system is essential because each option provides unique, non-duplicative textures.
Common Gelling Agents in Gummies:
Gelatin

Pectin

Hydrocolloid system

Starch

Hydrocolloid/starch blend
Sweetener Selections
After confirming your gelling system, your next step is identifying sweetener ingredients that will help achieve product claim goals such as 'reduced sugar.' According to Innova Market Insights, sugar content has a major influence on a third of shoppers, leading brands to offer sugar-reduced products across the entire food and beverage landscape. But a sugar reduction claim can be challenging in traditionally sweet products like gummies—the formulations are more complex, and working with sweeteners can prove challenging.
Your brand claims will point you toward a sweetness solution. But when selecting your sweetener, consider its impact on crystallization, moisture retention, and sweet taste delivery. Your sweetener will also affect the texture of your finished gummy.
Common Sugars and Sweeteners in Gummies:
Sucrose
Glucose
Dextrose
Stevia
Corn Syrup
Erythritol
Sorbitol
Maltitol
Xylitol
Fruit juice
Formulating with Functional Ingredients
Formulating a gummy with added nutritional ingredients generally follows a process similar to a traditional gummy confection. The primary difference is the addition of a functional component. Whether you're adding a solid or oil-based functional ingredient, the gelling structure of the gummy will hold the materials together, eliminating the need for an emulsifier or stabilizing elements. Producers add the active ingredient to the original slurry and strive for a homogenous mix to ensure cohesion.
Although gummy confections and fortified gummies share basic formulation steps, functional ingredients can carry other implications such as:
The set temperature of the gelling system: The temperature at which your gummies set must also work for the added functional ingredients and other components (like flavor and color). For instance, a gelling system that requires a higher set temperature may negatively affect heat-sensitive active ingredients.
Use of additional emulsifiers to enhance homogeneity: Depending on the functional ingredients (or color or flavor), you may incorporate some portions of the formulation as emulsions to ensure they homogenously combine into the slurry.
Regulatory requirements: Some functional ingredients have restrictions for usage level and combination with other ingredients. Plan to work closely with regulatory support (whether on your team or through vendors) to ensure your brand is in compliance.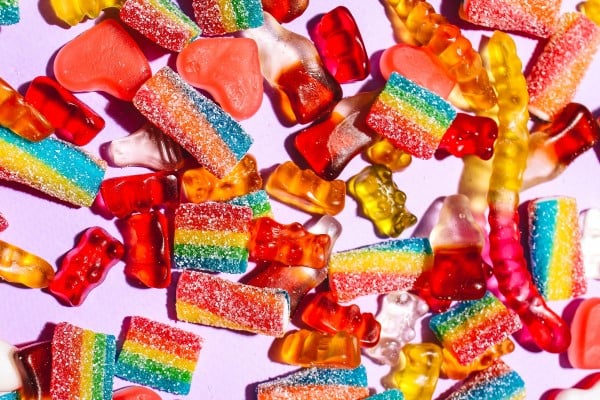 Why is Flavor So Important for Nutritional Gummies?
The gummy format can bridge the gap between 'tastes good' and 'good for you.' Mintel reports that 35% of US confectionery users ate more candy in the past year due to the accessibility of health options. How can formulators deliver taste without compromising functionality? Flavor. Whether you're striving to reduce (or remove) sugar or add functional ingredients, flavor plays a big role in taste delivery.
For consumers, functionality decisions center on the support needed from the gummy, such as stress relief, sugar reduction, or joint health. For formulators, adding functional benefits to gummies is more complex. Sometimes delivering functionality means removing ingredients, such as sugar or animal-based products. Providing purpose in gummies can also mean adding ingredients like vitamins or minerals.
Each path toward functionality needs flavor ingredients to ensure a satisfying eating experience.
Example #1: Removing Sugar
Let's use sugar as an example that illustrates removing ingredients. To deliver the expected sweetness in a gummy, formulators will leverage sweeteners to replace sugar. The challenge with sweeteners is that the taste experience (mouthfeel) is often different from sugar. Some solutions, such as some strands of stevia, carry an off note. By leveraging flavor modulation technology, formulators can flavor their sugar-reduced gummy while masking off-notes delivered by the sweetener solution.
Example #2: Adding CBD
Now let's look at challenges when adding ingredients to a gummy formulation. CBD is gaining traction as an additive to foods and beverages. Like other functional ingredients such as vitamins and minerals, CBD has a distinct taste profile. The CBD notes come from terpenes, which some describe as 'earthy.' In a confectionery application, like a gummy, earthy notes may clash with consumer expectations. Flavor can play a dual role for formulators, adding taste while masking undesirable notes, either through specific flavor technology or by leveraging complimentary flavor profiles.
What are the Trending Flavors for Standard Gummy Confections?
Top Ten Flavors for Pastilles, Gums, Jellies & Chews
Strawberry
Cherry
Orange/Sweet Orange
Lemon
Sour
Watermelon
Grape
Peach
Raspberry
Berry
Mintel. Last Three Complete Years. North America.
Top Ten Growing Flavors for Pastilles, Gums, Jellies & Chews

Mango
+700%
Sour Cherry
+133%
Sour Orange
+100%
Green Apple
+75%
Sour Lemon
+67%
Lime
+40%
Watermelon
+33%
Raspberry
+23%
Blue Raspberry
+17%
Blueberry
+17%
Mintel. Last Three Complete Years. North America.
What are Trending Flavors for Functional Confectionery?
Top Ten Flavors for Medicated Confectionery
Honey & Lemon
Cherry
Orange/Sweet Orange
Herbs/Herbal
Lemon
Menthol
Honey
Mint
Elderberry & Raspberry
Eucalyptus & Honey
Mintel. Last Three Complete Years. North America.
Navigate the Functional Confections Landscape with FlavorSum!
Ensure your next gummy launch is successful by leveraging our in-depth applications expertise and extensive insights know-how. Whether you need support with managing unwanted ingredients or want to add functionality, we can help you deliver a delicious product that keeps consumers coming back for more. Contact our experts to kick off your innovation journey.