Ever notice how the taste of lemonade combined with the smell of saltwater takes you back to a summer vacation at the beach? Flavors connect with the parts of our brain linked to smell and long-term memories, hardwiring us to form strong memories with foods and beverages. The partnership of smell and taste happens because your nose and mouth share an airway. As you taste the sweet-tart flavors of the lemonade, your nose detects subtle citrusy notes that contribute to the emotions you experience. Researchers suggest that associating foods with happy memories profoundly affects how good we think foods taste and how those foods or beverages make us feel.
Consumers often respond to stress or uncertainty by seeking foods and beverages that remind them of happier times. According to Mintel, 71% of U.S. consumers say they enjoy things that remind them of their past. In our 2022 trendspotting blog, we predicted consumers would continue to pursue comfort by reaching for flavors they know and love. Now, let's examine some of the ways food and beverage innovators can use flavor to help consumers find the familiarity and stability they crave.
Evoke Sweet Memories with Confectionery Flavors
From fruit-flavored gummy snacks for kids to indulgent chocolate bars aimed at adults, confectionery flavors appeal to a broad audience. The flavor palette in confections is expansive, with almost 400 flavor combinations launched in North America in the last 52 weeks.
Many of the flavors for new confections are nostalgic.

Flavor Facts: According to Mintel's Global New Products Database (GNPD), the well-loved flavor of caramel ranked #1 in the last year in North America, with launches featuring the indulgent taste up by +50%. Caramel's appeal also links to its ability to deliver multi-sensory delight through taste, smell, and texture.
Because most North American adults consume candy during childhood, nostalgic flavors can be a strong market pull and present opportunities to bring confections flavors into new categories.
Classic flavors can also improve the appeal of functional confections. While consumers aren't turning away from the candy category, over half are trying to improve their physical health (Innova). Sugar is a concern, with 24% of U.S. non-chocolate confectionery eaters (Mintel) saying the ingredient influences their choices.
A familiar flavor can reduce apprehensions about trying a product with unique benefits.

Flavor Facts: The nostalgic taste of strawberry is a leader in North American low/no sugar candy launches, ranking in the top 5 last year with watermelon, caramel, peanut butter, and almond.
Reinvent the Classics with Baked Goods
Baked goods innately link to memories because of their presence at holidays or celebrations like birthdays. The versatility of shapes and formats also provides bakery brands with multiple opportunities to align with dayparts and memories of family breakfasts or late-night noshes with friends. Hybrid baked goods like the "brookie" or "cronut" offer a way to reinvent classic tastes while appealing to customers searching for novelty.
Nostalgic flavors often sit near the top of the list in bakery innovations.
Baked goods can also satisfy the nostalgic cravings of specific generations. In 2020, General Mills reintroduced the popular 90s snack, Dunkaroos, a vanilla cookie with vanilla frosting and rainbow sprinkles. The announcement sparked plenty of excitement from Millennials looking forward to reliving their 90s memories.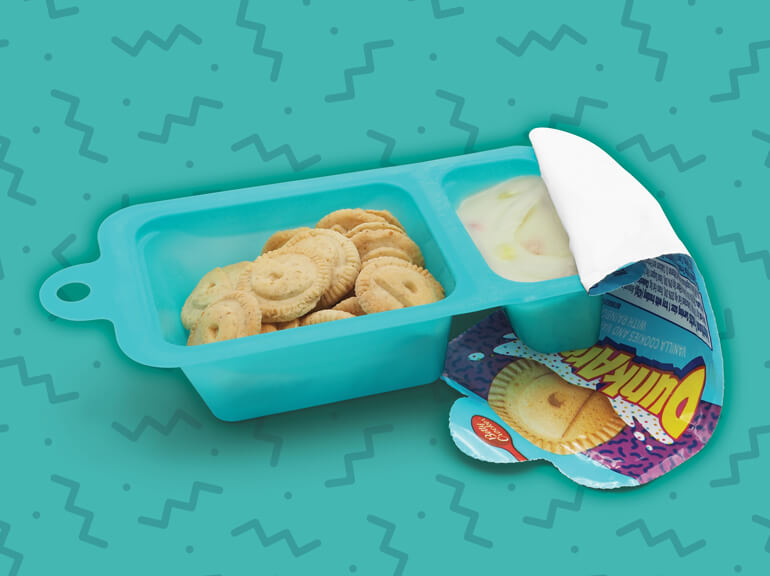 Vanilla Dunkaroos with vanilla frosting. Dunkaroos.com features 90's style branding and graphics.
Nostalgic baked goods are especially relevant around the holidays when more people want to revisit familiar dishes and flavors. Add a twist to holiday classics by incorporating up-and-coming flavors like marshmallow, maple, black currant, cardamom, and elderflower.
A few classic flavors showed an uptick in recent seasonal bakery innovations.

Flavor Facts: Brands showcased lemon, butter, pumpkin spice, and pistachio in more North American sweet baked goods and snack bar launches in Q4 2021.
Add Functional Twists to Familiar Beverage Flavors
The beverage category is versatile, aligning easily with various moods, occasions, and functional needs. Whether people want refreshment on a summer afternoon, warmth on a chilly evening, or mood-boosting benefits, nostalgic beverage flavors can help them enjoy the experience.
Mintel reports that healthfulness has become a more important food and drink choice factor for 43% of U.S. adults. For transportive drinks, Mintel recommends " innovating around multi-sensory appeals, such as through flavor and aroma, authentic ingredients and packaging and a connection to the local people."
And Innova recently explored 'hybrid' beverages that combine tradition and function in different formats and classic flavors like apple, strawberry, orange, and lemonade.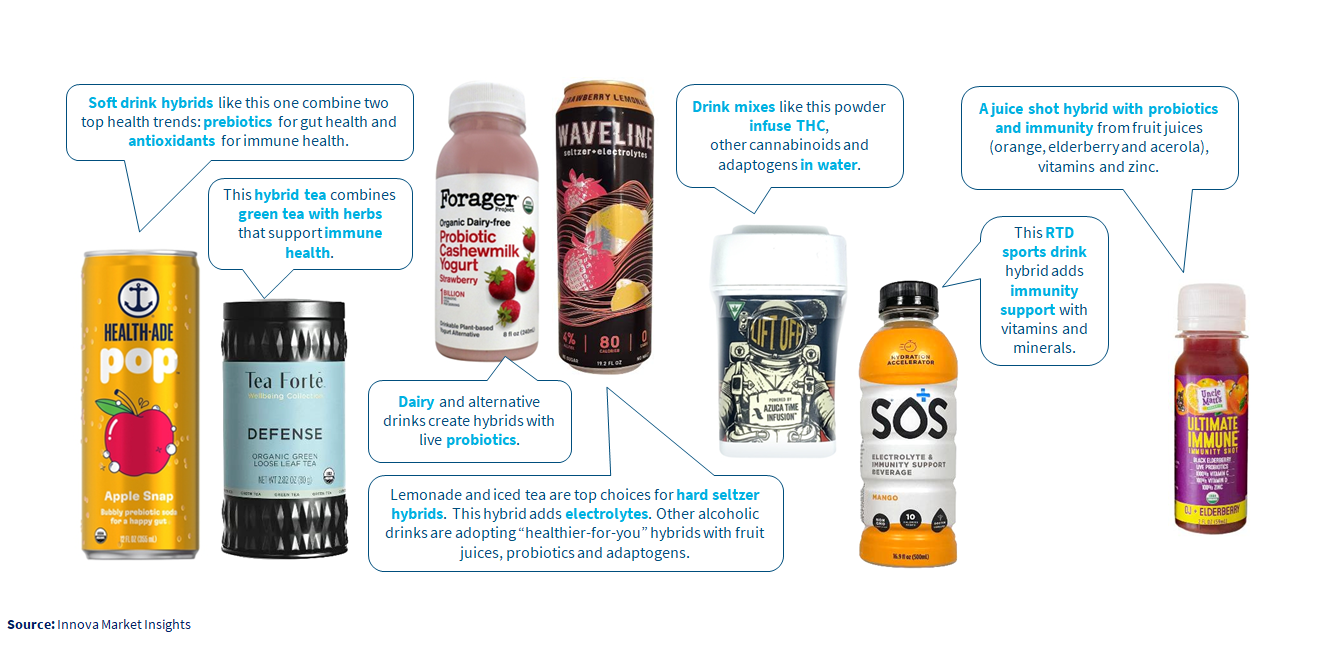 Over half (53%) of Americans surveyed by Mintel are interested in carbonated soft drinks (CSDs) with functional benefits, and producers are responding. Launches of refreshing beverages containing more ingredients consumers want or fewer that they're trying to avoid bumped up 6% in the latest 52 weeks.
Many of the hybrid CSDs feature familiar flavors.

Flavor Facts: Cola topped the list of functional CSD launches, up triple digits since 2021. Apple, orange, and cream soda rounded out the leader board.
Celebrate Fun Times with Familiar Frozen Treats
Nostalgia has a notable presence in ice cream and frozen desserts through associations with childhood treats. Over half (54%) of U.S. consumers who purchase frozen snacks say the ones they enjoyed as a child are still their favorite (Mintel). Frozen desserts offer plenty of room for nostalgic staples like cookies and cream or more creative regional flavors like "superman" from the Midwest or the Canadian favorite "tiger tail."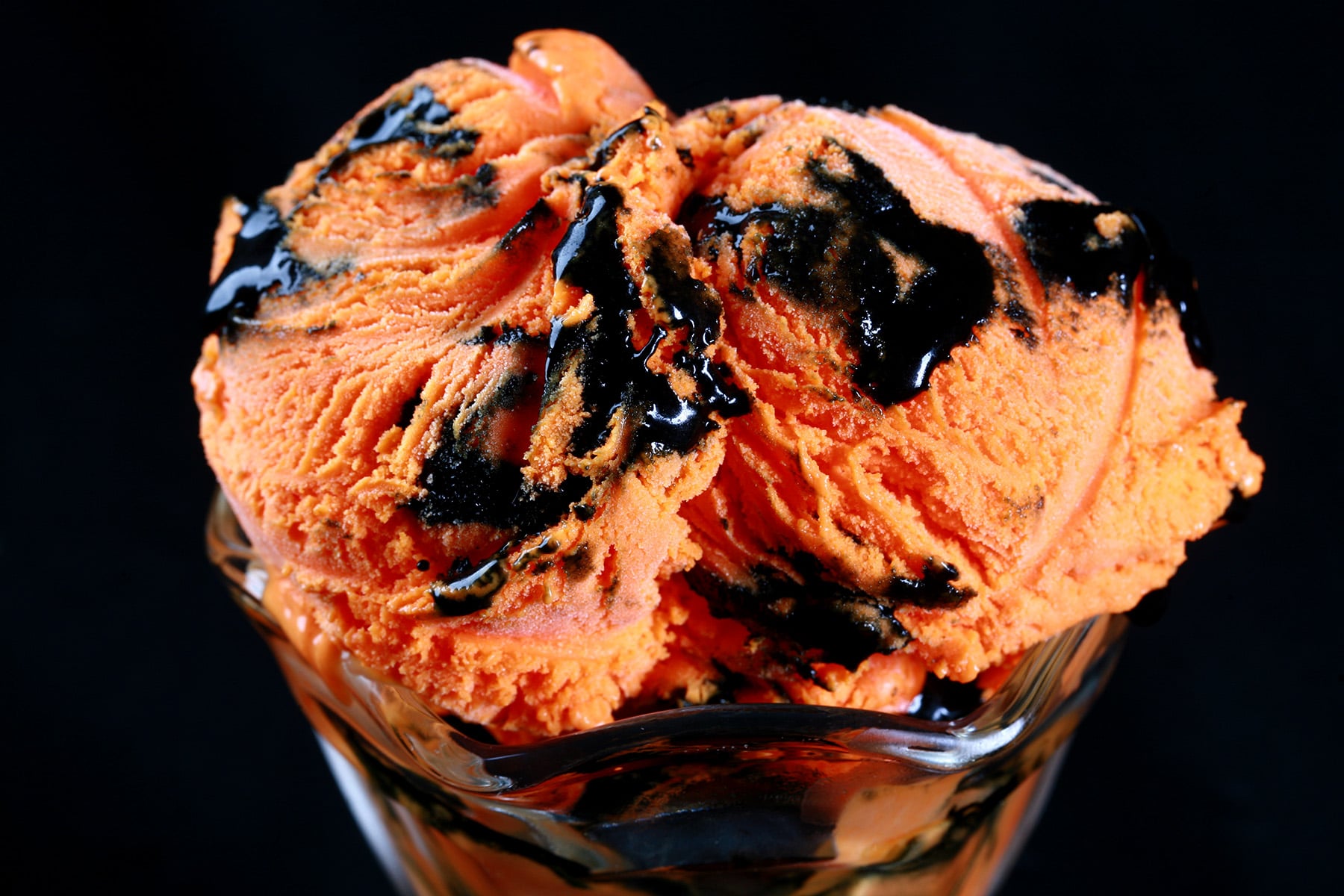 Superman ice cream (left) with its iconic three colors and tiger tail ice cream (right) with its distinctive pairing of orange and licorice flavors.
Plant-based frozen desserts are gaining acceptance over the past three years, with an 88% increase in new product launches (Mintel). Classic flavors help innovators create connections to familiar flavors while offering plant-based treats that meet consumers' dietary restrictions and desire for healthier lifestyles.
North American launches of plant-based frozen desserts showcase nostalgic flavors.

Flavor Facts: Vanilla and cookies & cream flavor featured in more new non-dairy products in the latest 52 weeks. And flavors new to the plant-based segment included favorites like Rocky Road and Pistachio.
Remember that adding variegates or inclusions can give an extra bit of indulgence and elevate a familiar flavor into a gourmet-style experience.
Ready to Innovate with Nostalgic Flavors?
Are you looking for ideas about how to connect with consumers on your next innovation journey? Leverage FlavorSum's extensive applications expertise by partnering with us on your upcoming projects! Collaborating with our flavor experts can help you navigate development hurdles and speed time to market. Connect with our team to learn more!