According to industry research, a solution-focused company achieves results by identifying and amplifying successful processes. Consultants offer various models for developing a solution-focused culture, often relying on acronyms like SIMPLE, PLUS, or OSKAR to share essential principles within an organization. Although designed differently, each framework provides practical, powerful guidelines for teams.
We spoke with Katie Colyer, FlavorSum Customer Care Lead, to get her perspective about what solution-focused means at FlavorSum. Here are the insights Katie shared about how FlavorSum helps customers achieve their growth goals.
Focusing on Success: FlavorSum's Solution-Focused Approach
Katie explained that the framework for customer success at FlavorSum relies on several concepts: partnership, real-time solutions, options, and staying connected.
1. Partnership. Our partnerships expand customer capabilities. Katie notes, "We want to be a flavor partner from the beginning of product development through launch. We ask questions to determine how we can best support customers."
Are you looking for market and consumer insights to identify innovation opportunities?

Do you need support navigating the regulatory complexities of food & beverage launches?

Are you ready to move into flavor creation, or do you need help with flavor optimization? Would applications testing help confirm usage rates and flavor delivery?

Are you ready to scale up but have questions about efficiencies and cost-in-use?
The FlavorSum team will collaborate with you throughout the New Product Development (NPD) stages and provide support where and when you need us, from planning to production.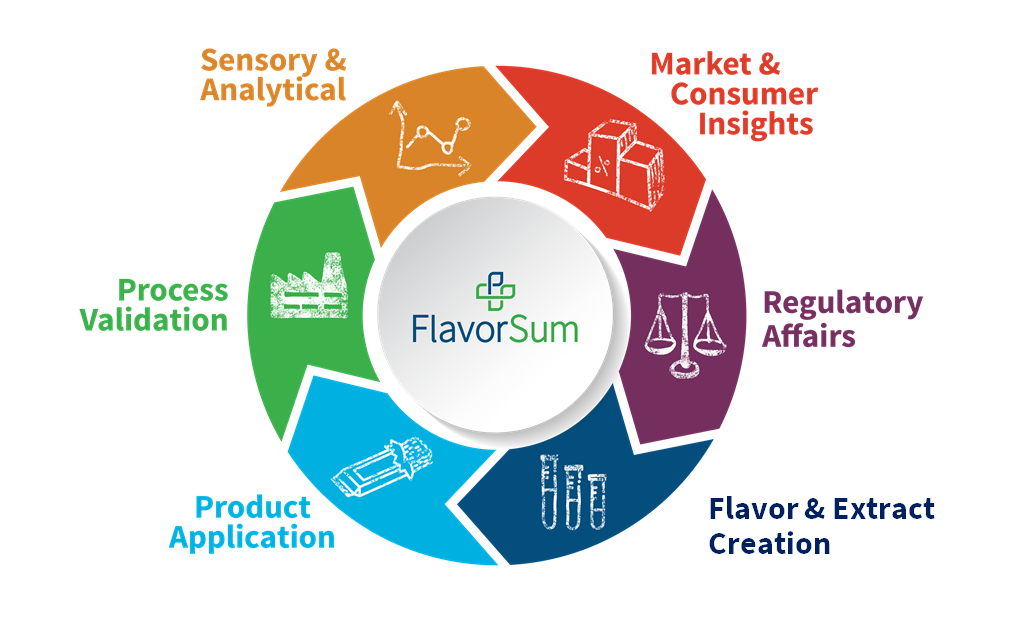 A strong partner anticipates questions and can view situations from multiple viewpoints. As Katie stated, "We don't want to wait to get the hard questions. We look at situations through the customers' eyes." Our approach uses a customer lens and looks at the short-and-longer-term impacts of change so we can respond appropriately. For example, as we expand our teams across the U.S. and Canada, we consider the following:
What types of resources do we need to support our customers' plans effectively?

Which food & beverage segments are growing, and what flavor solutions can we develop to meet consumer demand?

What are the current market conditions that may affect our customers' launch plans, and how quickly can we communicate updates?
2. Real-Time Solutions. Speed-to-market is vital for new product success, and product innovation deadlines are shortening. Technology powers the FlavorSum organization, from sales through supply chain and production. Our team brings deep and diverse skills to support customer needs.
Our forward-looking supply-chain forecasts help us maintain critical ingredients and supplies.
Production planning maximizes resources (human, time, and ingredients) to deliver cost-efficiencies.
Flavor creation reflects collaboration across an international team with experience developing delicious tastes for many food & beverage categories.
For customers, the FlavorSum Access portal provides:
a library of popular, trending flavors

24-hour ship times for flavor samples

downloadable documentation on-demand
Katie noted, "FlavorSum Access streamlines the process of creating bench-top samples and submitting formulas with flavors tested in customers' applications."
3. Options. Facilitating customers' success is a top priority at FlavorSum. To summarize how FlavorSum interacts with customers, Katie referenced author Jeanette Winterson. "What is 'no'? Either you have asked the wrong question, or you have asked the wrong person. Find a way to get the 'yes.' Our expertise goes beyond flavor systems," she said. "We 'get the yes' for our customers by connecting them with an ecosystem of resources who can support specific objectives."
Teamwork and communication are crucial for delivering results. Our cross-functional approach means you'll have access to representatives from every department needed to resolve your questions. FlavorSum's vendor community is also part of the team. They provide valuable perspectives about ingredient availability and market dynamics that help our staff become more responsive and give customers insights to manage the NPD process and forecasts.
4. Staying Connected. Katie mentioned that FlavorSum continues to support customers after a product launch. "We focus on earning and keeping the trust of our customers," she said. "Building trust is key to establishing long-term relationships. The foundation of trust starts with following our core values: doing what's right, being a team player, and striving for excellence."
Katie explained, "At FlavorSum, doing what's right means making good decisions informed by integrity and delivering results to our customers. A team player cares, collaborates, and is accountable and action oriented. And we strive for excellence by continually improving, producing quality work every day, and leading our industry."
Forrester's 2021 B2B Summit echoed many of the FlavorSum values in The Trust Imperative discussion. Cultural characteristics that help establish and retain customer trust include:
Accountability

Competence

Consistency

Dependability

Empathy

Integrity

Transparency
FlavorSum: A Solution-Focused Company of PROS
Working with FlavorSum gives you a partner delivering real-time solutions with options that work for you and a team committed to staying connected and ensuring your long-term success. "We're pros in the flavor industry," said Katie, "And we're here to help growing food & beverage companies deliver great-tasting products to consumers."
For more information about how FlavorSum can support your product development and innovation efforts, contact our team!
Katie Colyer leads the U.S. FlavorSum Customer Care team. She joined National Flavors, (which became FlavorSum in April 2021) six years ago and has been part of the team as a Customer Care Representative, Inside Sales Representative, and Marketing Coordinator.