Originally posted on December 16, 2021 | Updated on November 17, 2022
According to the 2022 Bacardi Cocktail Trends Report, 58% of global consumers are drinking more non-alcoholic and low-ABV cocktails than a year ago. Alcohol-free is quickly changing from a pocket segment to one to watch. It's still small, representing less than 6.7% of launches in adult beverages, according to IWSR. But new products with a no alcohol claim in North America more than doubled in the past year.
Formulators are investigating ways to create delicious products that mimic their alcohol-full counterparts. Join us as we examine the alcohol-free market and tap into insights about creating an enjoyable alcohol-free product without compromising taste, novelty, or drinking experience.
What Makes a Beverage Non-Alcoholic and How are They Regulated?
Definitions for non-alcoholic vary from country to country. Commonly, anything below 0.5% alcohol by volume (ABV) is not considered an alcoholic beverage.
The Food and Drug Administration (FDA) is responsible for oversight and compliance for many NA beverage offerings. Examples falling under FDA jurisdiction include diluted or NA wines, non-alcoholic spirits, or RTD beverages that don't have malted barley and hops as ingredients.
While most NA developers answer to the FDA, some NA beverages must abide by specific guidelines set by the Alcohol and Tobacco Tax and Trade Bureau. Developers of malt-based drinks containing less than 0.5% ABV (cereal beverages) must submit laboratory testing results to the TTB. Additionally, if an alcohol-free beer follows conventional beer production processes and is then de-alcoholized, brands must follow the TTB's labeling and advertising regulations (See 27 CFR 7.71).
Why are People Reaching for Alcohol-Free Offerings?
Healthfulness
Healthfulness is a big driver for growth in the alcohol-free space. COVID-19 shaped the consumer experience, and health is a top priority. Alcohol moderation is one tactic for health management that is picking up pace. Moderation is a trend we believe will continue well into the next decade.
Standout Statistics: 54% of respondents that drink NA beverages 2+ times per year indicate a desire for a healthier option (lower calories/sugar) as the motive behind purchase.
Generational Shifts
Innova Market Insights reports that one-third of consumers aged 18-25 are now saying that they never consume alcohol. We are witnessing younger generations (gen-z and millennials) championing the moderation movement.
Standout Statistic: Awareness and purchase of non-alcoholic RTDs and Spirits are significantly higher among Gen Z and Millennial audiences (18-41 years old) compared to other generations (FlavorSum Proprietary Study).
Personal Preference
Finally, some people seek alcohol-free options because of personal preference. And surprisingly, it's not always a replacement for alcohol but an addition. IWSR research shows people completely foregoing alcohol represent less than 25% of purchasers, with more than 40% buying NA beverages as substitutes for full-strength alcohol on certain occasions.
Standout Statistic: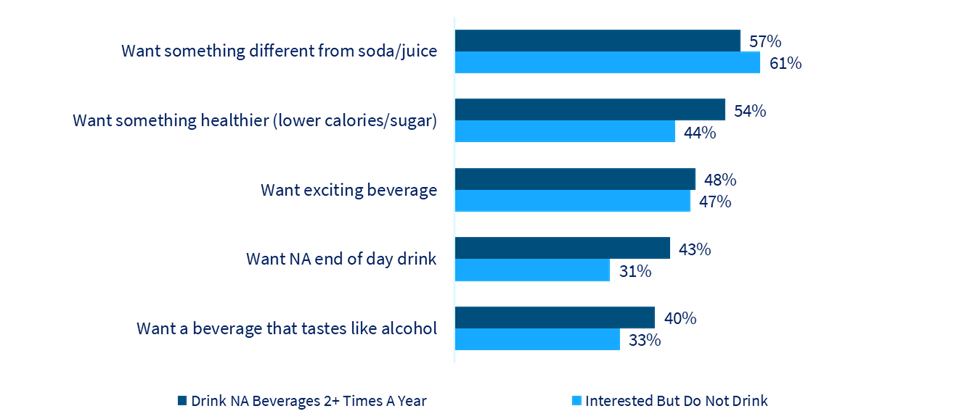 FlavorSum Proprietary Study
When are People Reaching for Alcohol-Free Offerings?
When it comes to occasion, alcohol-free closely mimics the alcohol segment. People still want to experience the premium feel and sophistication of alcohol; they just don't want the alcohol. If an alcoholic beverage is appropriate, alcohol-free is too, such as at weddings, dates, cookouts, or parties.
And just like regular alcohol, consumers also enjoy alcohol-free products at home. The one occasion where alcohol-free becomes the top choice is when people want to avoid the effects of alcohol, such as during a work function or early in the day. In these scenarios, alcohol-free is an excellent option to deliver the experience without intoxication.
In our recent study, we polled people on the occasions they might reach for alcohol-free offerings. The conclusion? NA drinks fit well with a variety of daytimes and experiences:
50% like the idea of NA beverages for relaxation
49% like the idea of NA beverages with evening/dinner
49% say NA beverages are ideal for daytime/lunch
43% would like NA alternative to drink in social settings
What are the formulating challenges associated with alcohol-free?
Creating an alcohol-free product is an interesting endeavor because people want a recognizable experience without the key component that makes it exist. Developers have several considerations to deliver a solid alcohol-free product, but taste and mouthfeel top the list.
Whether it's alcohol-full or alcohol-free, the taste of a finished beverage should be the number one priority. The consumer will only want to drink it if it tastes good.
Mouthfeel is the experience inside your mouth after you take a sip. Beer, spirits, and wine all offer a unique mouthfeel during the drinking experience that can be a challenge to repeat once you remove the alcohol component. Formulators can employ different techniques to deliver the recognizable mouthfeel, such as including more sugar or fat, but it's a balancing act.
Working with knowledgeable applications experts can ensure brands address all key sensory factors.
How can formulators deliver delicious taste in an alcohol-free beverage?
A great way to achieve a satisfying and unique taste in your alcohol-free beverage is through flavor solutions. Flavors make life easier for formulators. Developers can work with a flavor house to customize a flavor to their exact wants and needs from the start of the formulating process.
The benefits don't end there. By using flavors, beverage formulators can produce a repeatable product every time, removing the worries about seasonal ingredient availability or process consistency. Flavors can remove the guesswork and reduce the margin of human error during production.
Finally, flavors provide significant benefits for manufacturing efficiency and safety. Brewers no longer need to climb into a vat to remove particles left behind from whole ingredients or climb up a ladder with a heavy container of whole ingredients. Flavors enable the optimized production of a repeatable product that people will love.
What are the Flavor Trends in Non-Alcoholic Beverages?
Similar to alcohol-full products, sweet flavor profiles dominate the alcohol-free space for consumers. For instance, in NA RTD cocktails, people express interest in sweet, fruit flavor families such as berry (70% interested), tropical (62% interested), tree fruit (60% interested), and citrus (54% interested) (FlavorSum Proprietary Study).
And while sweet flavors dominate, we also see developers delivering drinks that mimic alcohol favorites, such as a Moscow mule, mojito, and margarita. From our recent study, North Americans expressed interest in a variety of non-alcoholic versions of RTD cocktails.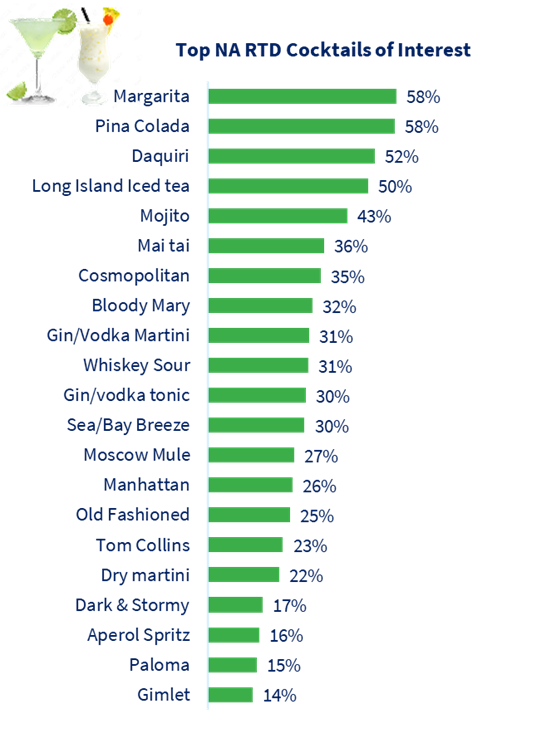 Are you wondering how to elevate your fruit-forward concept? Our research shows that consumers are interested in flavor exploration through indulgent, botanical, and spicy pairings.

Partner with FlavorSum on Your Next Alcohol-Free Launch!
Are you exploring the alcohol-free space and seeking formulation and flavor support? A partnership with FlavorSum flavor experts can help you navigate development hurdles—whether this is your first NA formulation or you're a seasoned developer. Connect with our team to learn more!