Despite a tumultuous few years (and more uncertainty on the horizon), the FlavorSum team is looking optimistically to 2023 and identifying new ways to create enjoyable flavor experiences. Our predictions for the new year feature flavors that target health to experience-driven tastes (and everything in-between). We expect some carry-over from 2022, but we are enthusiastic about opportunities to connect with people through innovative flavors. Explore our 2023 flavor predictions to discover how your brand can stand out in the food and beverage space in the new year!
Feel Good Flavors
Wholistic Health Picture
We know that food and beverage can support both physical and mental health challenges. But did you know flavor can play a direct role in functionality in addition to aligning with perceptions of benefits? For instance, citrus flavors ranked as top flavors launched in immunity beverages over the past five years. The citrus components work double duty in these launches as an indicator and moderate source of the immunity benefit. The citrus-immunity association is just one example —the linkages span both mental and physical health offerings. As people seek more from their food and beverage products, we expect developers to leverage flavors more strategically to create those connections.
Stand Out Statistics:
42% of US adults like their food/drink to contribute to both their mental and physical health. (Mintel)
More consumers say they have engaged in eating healthily than physical exercise as a route to healthy living. (Innova)
Nourishing the Soul
As we discussed in part one of our trend series, 2022 didn't bring the reprieve many people hoped to see. Instead, we faced a new set of challenges such as inflation and geopolitical conflicts. Foods and drinks provide one avenue for relief from stressors. Beyond tie-ins with functional products, flavors can provide benefits by creating pleasurable experiences or evoking happiness through memories. Developers who want to target stress relief could shift away from a functional ingredient to a less direct approach with flavors that feel good—simple, nostalgic, indulgent. Flavor can transport people, and when flavor takes them back to a childhood backyard bonfire with gooey marshmallow or sweet apple cider, the sense of enjoyment extends beyond taste.
Stand Out Statistics:
84% of Americans report feeling stressed weekly, up from 78% in March 2021. (ValuePenguin)
40% of respondents across 11 countries indicate "feeling well" as a top driver of a healthier lifestyle. (Innova)
Elevated Taste Experiences
Dual Taste Experiences
In 2022, we saw many creative food and beverage launches featuring contrasting taste profiles. In our 2022 Sweets and Snacks review blog post, we highlighted new product launches with a sweet and spicy pairing (like southern peach habanero potato chips). Tastewise calls them "fusion flavors" and IFT refers to it as "sweet plus," but no matter the nomenclature, the dual taste experiences are compelling. We envision this coming to life in several ways, such as the trendy sweet and spicy, newer sour and spicy, and traditional sweet and savory.
Stand Out Statistics:
Consumer interest in complex heat grew by 20.5% in the 12 months ending in July 2022, compared with 8.3% growth in business interest. (Spoonshot)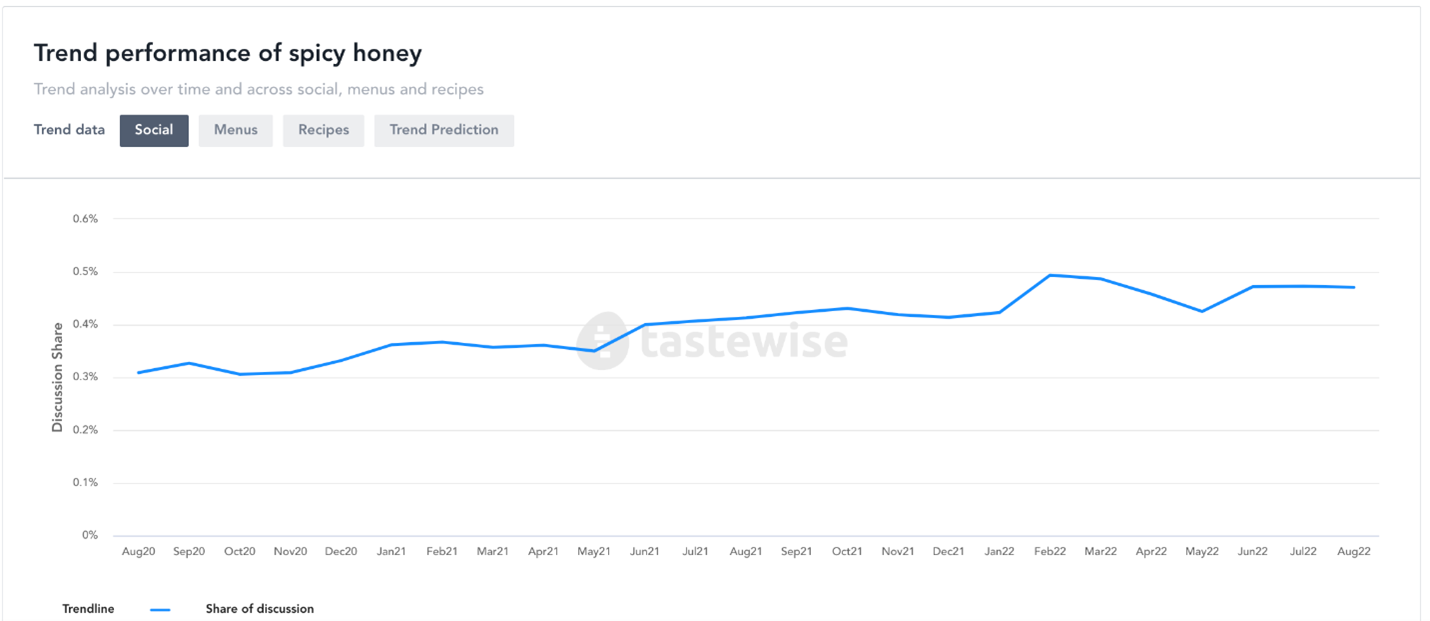 Pure Indulgence
Trend Hunter predicts 2023 will be a period of "incremental chaos". With so much in flux, people will seek moments of simple and indulgent pleasure. Innova predicts that consumers will find creative ways to "elevate the everyday." How can developers tap into this trend? 30% of global consumers find richness of flavor the most important driver of enjoyment and pleasure in food. (Innova) Brands can develop moments of joy through taste and storytelling.
Stand Out Statistics:
43% of US consumers are motivated by indulgent flavors when choosing a frozen treat to try. (Mintel)
6 in 10 consumers say everyday moments of happiness they can experience is the most common way that they treat and reward themselves. (Innova)
Down to Earth Flavors
Florals and Botanicals
Floral and botanical flavors are still relatively young in the world of food and beverage, but we expected continued growth because they offer elevated taste profiles and added functional benefits, Tastewise highlights gains in trending floral flavors like ylang ylang (+42% YOY in consumer interest) and echinacea (+24% YOY in consumer interest). While still primarily popular in the beverage and nutrition categories, the earthy floral and botanical notes have a place in categories like bakery, dairy, and confections.
Stand Out Statistics:


Mush-Boom of Flavor
Mintel calls it "the great mushroom boom," and they're right. Mushrooms are popping up everywhere. But brands have plenty of white space to innovate with the umami flavor. Mushrooms have become increasingly popular as plant-based alternatives flood the market, but they also offer their own unique taste profile. Mintel reports that "manufacturers are largely missing an opportunity to engage consumers by not emphasizing the unique flavor profiles of different varieties." The ample, untapped room for creativity with mushrooms exists in food and beverage applications. For instance, Thrillist reports that bartenders are starting to use mushrooms in cocktails and mocktails for a savory spin.
Stand Out Statistic: 36% of US consumers have tried mushroom flavors in snacks and liked it; 19% haven't tried it but would like to. (Mintel)
Experience-Inspired Tastes
Cocktail Flavors, Mocktail Formats
Some people want the multi-layered tastes and exciting flavor experiences that come along with an alcoholic beverage without the side effects of alcohol. To address this need, we expect to see brands turn to alcohol-inspired flavors more often across food and drink categories. As the sober curious movement gains momentum (Note: Mintel reports that "gen Z adults drink less than older generations"), developers can discover ways to deliver the experience without the hangover. For example, we recently launched two new flavors for flavored water to mirror popular cocktails: ranch water and paloma. Want to learn about the alcohol-free space? Check out our blog post from late last year on the topic.
Stand Out Statistics:
On Reddit, visits to the community r/StopDrinking have surpassed 63 million, up 18% compared to last year. (AdWeek)
TikTok videos with the hashtag #SoberCurious have received more than 230 million views since the category went live. (AdWeek)
Social Media Creates Global Taste Buds
In a recent blog post, we discussed flavor innovation with a global spin and touched on the idea of how social media can inspire people to try new tastes. In 2023, we believe this trend will continue to pick up and brands will increasingly monitor and respond to ideas born in the social space. With the expansion of social media has come a new breed of influencers sharing cultural meals and snacks. More brands and influencers are partnering, and we expect to see an uptick in food and beverage launches coming from those relationships. But social media moves quickly, and brands must do the same. According to Mintel, "food and drink flavors and fads move faster in a more connected world."
Standout Statistics:
Nearly 80% of Canadian adults believe internationally inspired foods are good ways to experience other cultures. (Mintel)
Kids and teenagers globally spent 91 minutes per day on TikTok in 2021. (Mintel)
Discover Innovation Inspiration and Leverage Launch Support in 2023 with FlavorSum!
As you navigate the uncharted territory of a new year, bring FlavorSum along for the journey! Discover support from flavor expertise, consumer insights, and commercialization resources to fuel your next launch. We're relentlessly devoted to helping growing food and beverage companies create great-tasting products that align with consumer needs and inspire brand loyalty. Contact us to talk about your plans for 2023 (and beyond)!