More consumers are stepping up to purchase plant-based dairy products. The Good Food Institute reports through SPINS data that U.S. sales of plant-based milk, creamer, frozen desserts, cheese, butter, dips, and condiments increased 23.4%, topping $4.5 billion in 2020. The plant-based dairy market in Canada grew +16% according to data from the last available year, with Nielsen recording more than $322 million in sales.
Despite the rapid growth trajectory, low category shares of plant-based dairy products present producers with significant upside potential.
Plant-based frozen desserts, for example, represent about 5% of total U.S. ice cream and frozen dessert sales.

Non-dairy yogurts, butter, and cheeses hold a similar share.
Plant-based

creamers

are outpacing other categories, capturing about 7% of total creamer sales.
What's holding plant-based dairy back from gaining more space in refrigerators and building market share?
Consumer Reactions to Plant-based Dairy Products
Between 37% and 39% of households buy various plant-based dairy categories, but not because they like the taste. Fewer than 4 in 10 who put a plant-based dairy product in their shopping cart prefer the taste over traditional dairy. The top 2 motivations for purchasing non-dairy products are perceived health and environmental benefits, according to FlavorSum consumer research and a recent survey from innovation consultant Mattson.
The Mattson research showed two-thirds of consumers avoid plant-based dairy because they prefer traditional. And almost 50% won't purchase plant-based dairy options because they dislike the taste and the often-cited-as-higher price.
Taste remains the top criteria for food and beverage purchases. While aroma, appearance, and texture contribute to the experience, flavor attracts consumer attention and drives repeat purchases. The FlavorSum team recently conducted quantitative research with North American consumers, focusing on dairy products that often feature sweeter profiles, like yogurt, beverages, sweet dips, or frozen desserts. Here's what we discovered about the flavors they associate with plant-based dairy.
Flavors for Plant Bases: Consumer Expectations
Flavor families enable product developers to condense an expansive landscape into broader areas for exploration. We examined consumer reactions to the following families and examples:
Berry – strawberry, raspberry, blackberry, blueberry
Citrus – lemon, orange, lime, grapefruit
Fruit – pear, peach, apple, cherry
Fun Flavors – cotton candy, tutti fruitti
Indulgent – cheesecake, cookie, fudge, caramel, gingerbread, coffee
Melon – watermelon, honeydew, cantaloupe
Simple Sweet – chocolate, vanilla, honey
Spice – mint, cinnamon, ginger, cardamom
Tropical – pineapple, mango, banana
And we learned that consumers' top flavor choices for plant-based dairy include familiar tastes like vanilla or chocolate, followed by favorite fruits and berries. Indulgent profiles round out the top 4.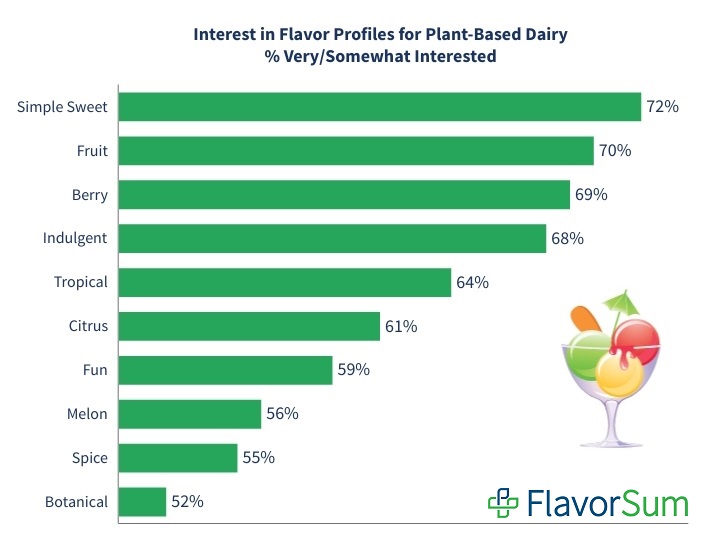 Flavor associations vary across plant bases, with some providing a more versatile platform than others. Consumers had more suggested pairings with coconut milk than other leading plant bases, although all offer multiple opportunities for flavor innovation.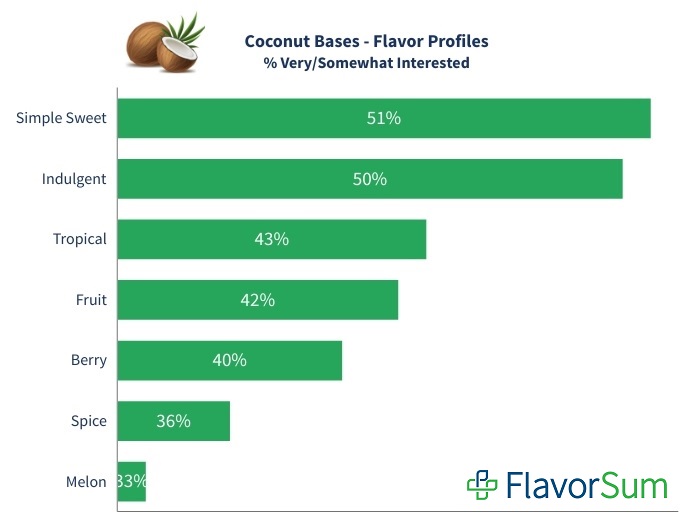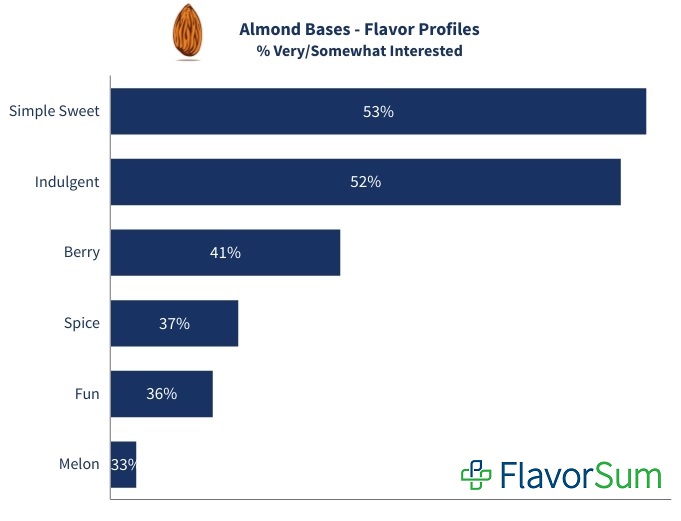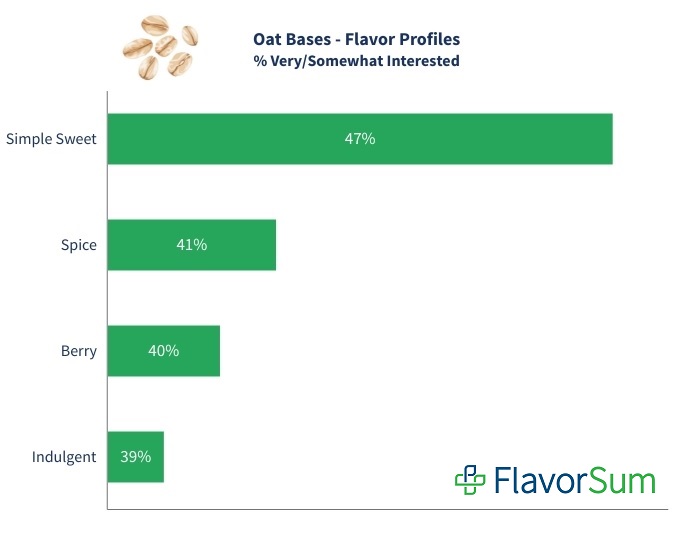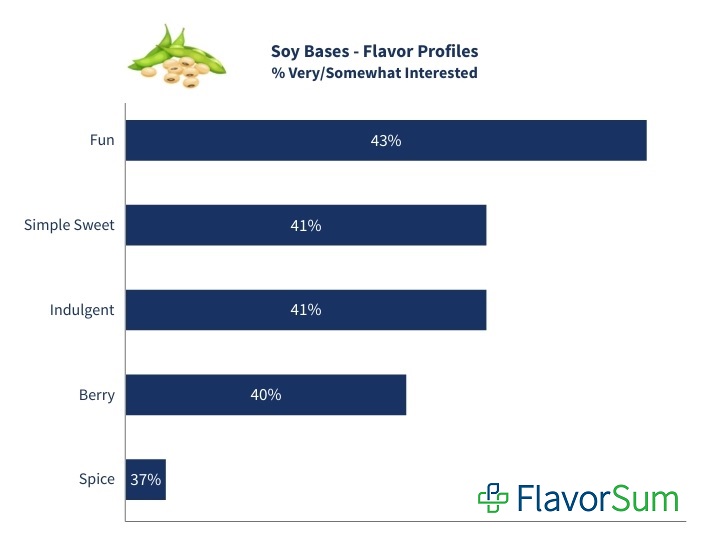 Insights from proprietary research conducted in March 2021 with 500 North American consumers who expressed interest in plant-based dairy products.
Plant-Based Dairy Launches: Flavors in Focus
Data from Mintel's Global New Products Database (GNPD) helps identify flavor trends in plant-based dairy beverages, frozen desserts, and spoonable yogurt. Findings align with the consumer survey results, with simple sweet, fruit, berry, and indulgent profiles prevalent across the categories.
Dairy alternative beverage launches held steady between 2018 and 2019, falling 60% in 2020. Flavor profiles reflect popular tastes in the beverage space, with vanilla, chocolate, and tropical (banana) topping the beverages introduced in the last 3 years.
New frozen desserts with almond, coconut, soy, oat, or blended plant bases increased 11% in 2019 and fell only slightly (about 6%) in 2020. Brands focused on delivering indulgence through flavor, inclusions such as nuts, cookie or candy bits, chocolate pieces, and variegates like chocolate or caramel.
Launches of spoonable yogurts with plant bases vaulted 90% in 2019 and an additional 18% in 2020, one of the few categories with continued NPD momentum in the last year. Favorite yogurt flavors like berry, vanilla, and fruit (peach, cherry) dominated the new product landscape.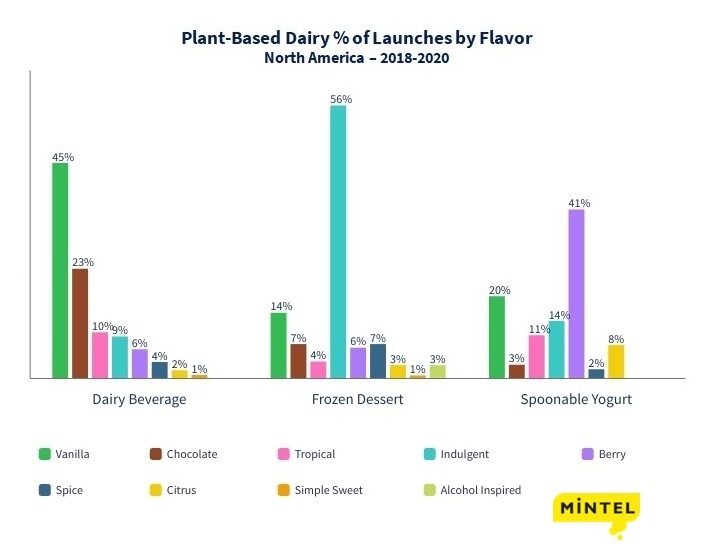 Formulation Opportunities with Plant-Based Dairy Alternatives
Identifying a flavor that fits the brand positioning and meets consumer expectations is one of several decisions that developers must make when creating plant-based beverages, frozen desserts, or yogurts. Getting the right texture, mouthfeel, and managing the 'off' notes that plant bases present are additional dimensions to manage because of their strong effect on taste perceptions. The uniqueness of each plant base requires different approaches to create delicious results.
Findings from our consumer research confirmed that current plant-based dairy assortments have room for improvement. Respondents graded the performance of plant-based dairy products on the characteristics influencing their purchase decision, and we learned that:
Flavor – whether traditional, nostalgic, indulgent, or innovative – represents the largest gap between what consumers want and how plant-based dairy options perform.

Texture is another significant opportunity. 70% of our audience said having 'a texture like dairy' is an important purchase influence, but only about 42% agreed that plant-base dairy products meet their expectations.
Formulators can use ingredients like emulsifiers, maskers, stabilizers, and sweeteners to help optimize flavor and texture profiles. But achieving the right balance often requires partnership with experts in plant-based product development.
Interested in learning more about plant-based dairy solutions?
Attend our Webinar: Sprout Success in Plant-Based Dairy with Insights from FlavorSum on June 16, 2-3 pm est.
Please plan to join us as we dig deeper into the consumer insights uncovered through our survey. We'll also discuss ways to address formulation challenges when developing plant-based dairy alternatives.
If you're facing immediate challenges with your plant-based dairy product, contact the FlavorSum team, and we'll explore solutions that achieve your goals!