While the healthier eating trend is here to stay, consumers are still looking for ways to add indulgence to their daily menu. Fortunately, continued innovation across the food and beverage landscape means healthy and indulgent don't have to be mutually exclusive anymore. One category benefiting from creative formulation is the ice cream and frozen dessert space. For producers planning their ice cream innovation strategy, navigating the path to in-market success is easier with answers to the consumer and category drivers influencing product acceptance.
How is the plant-based movement affecting frozen indulgences?
Plant-based frozen dessert offerings have skyrocketed over the past three years, with an 88% increase in new product launches. (Mintel) The rapid growth in innovation is due to evolving consumer needs for more plant-based options to meet dietary restrictions and fit lifestyles. A recent FlavorSum proprietary study shows consumers would consider a plant-based option because:
They are healthier than similar foods made from traditional dairy.
They are better for the environment.
They are an alternative that doesn't affect dairy animals.
Will the plant-based bubble ever pop? All signs point to no. Right now, plant-based owns about 6% of the ice cream/frozen yogurt market for the U.S. (Innova), but demand for plant-based ice cream is expected to rise 9.7% in North American in the next ten years. (Good Food Institute, Future Market Insights) Frozen dessert brands large and small are following suit and developing non-dairy options to take advantage of the growth potential.
For formulators looking to stand out in the plant-based frozen dessert realm, it's all about discovering how to deliver an indulgent and recognizable eating experience:
Texture: Is the mouthfeel reminiscent of the coveted creamy ice cream experience?
Base: Is the alt-dairy base helping you achieve your taste, texture, and dietary goals?
Flavor: Do the flavors compliment the base and any inclusions or variegates?
Experience: Are all the components (base, flavor, inclusion, variegate, mouthfeel) coming together to achieve a rich taste experience?
Are consumers still seeking dairy ice cream options?
According to Food Business News, dairy hard ice cream production was up 6% from 2019 to 2020 and early data shows similar growth took place from 2020-2021. This increase shows that despite an uptick in consumers looking for dairy-free options, dairy ice cream is still a tried-and-true favorite. This consistent growth despite competition shows that the innovation opportunity in the frozen dessert space knows no bounds.
Flavor and formulation themes resonating in the dairy space as 2022 unfolds include:
Nostalgic indulgence: Although nostalgic experiences have been part of the food and beverage space for several years, a recent Mintel survey reveals that 71% of U.S. consumers still enjoy rediscovering flavors. Bakery-inspired flavors are often reminiscent of childhood and are increasingly common in ice cream. The comforting reminder of simpler times can augment the flavor indulgence.
A texture-enhanced experience: To convey a decadent, gourmet-style experience, producers are using sophisticated flavors, rich and complementary textures like variegates, gooey marshmallow, or crisp candy bits, and craft-like processing methods. The elevated taste offers reward to manufacturers, too: 67% of Americans will pay more for a high-quality frozen dessert.
Local and authentic flavors: Food and beverage regionality continues to create opportunities to connect with consumers. Mintel reports that 36% of consumers like to try regional variations of popular flavors. Recent ice cream launches highlight traditional desserts (southern banana pudding), ethnic favorites (dulce de leche), and authentic ingredients (made with milk from cows that are not treated with rBST).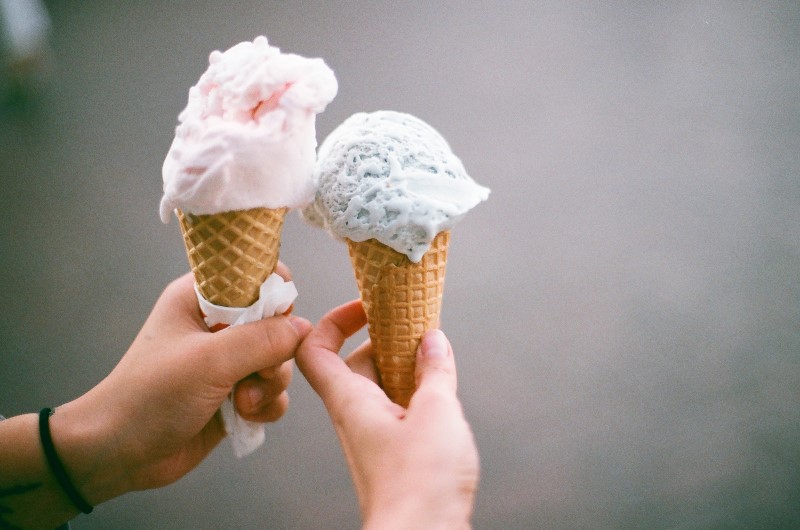 Which consumer dietary needs influence frozen dessert innovation?
Frozen treat consumption often reflect consumers' desire for indulgence and great taste, but producers also have an opportunity to address dietary needs without sacrificing the eating experience. In fact, when it comes to frozen indulgences, 64% of shoppers agree that ice cream can be part of a healthy diet. (Mintel)
More frozen desserts featuring label claims such as sugar-free, dairy-free, and high protein launched in the last few years (influenced by the pandemic). Vitamin-enhanced and immune boosting ingredients are also emerging.
Opportunity for Claim Innovation:
Sugar-Free: 55% of US adult consumers would like to eat less sugar in their diets. (Mintel)
Plant-Based: Plant-based ice-cream and frozen yogurt is considered a top sub-category for plant-based claims. (Mintel)
High Protein: Frozen dessert new product launches featuring a high/added protein claim grew 29% over the past five years. (Mintel)
Vitamin-Added or Immune Supports: Innova reports that 60% of global consumers are increasingly looking for foods and beverages to support immune health. Recent frozen treats hitting the shelves included ingredients like Vitamin-C, elderberry, hibiscus, and aloe vera.
Formulating for these label claims can present a unique challenge, as developers strive to achieve a recognizable eating experience without ingredients they usually leverage. And consumers aren't lowering their expectations. According to a survey from Yasso & Mintel, only 39% of consumers are willing to taste sacrifice for a healthier option. (Mintel)
How do sweeteners enhance the frozen dessert eating experience?
When it comes to dessert, taste is a top priority for consumers. Despite a general push towards wellness, a 2021 study published in the Journal of Dairy Science revealed taste is more important than healthiness, even in better-for-you (BFY) products. And while everyone loves classics flavors (vanilla, chocolate, strawberry), frozen dessert manufacturers continue to explore ways to optimize the delivery of taste.
The sweetness of frozen desserts is a core characteristic, and formulators have a range of options that can elevate the experience. The Journal of Dairy Science research showed that consumers prefer the idea of stevia as a sweetener in BFY products, in part because they recognize the name. After tasting frozen treats made with various sweeteners, people preferred monk fruit. The stevia product included erythritol which sometimes carries a bitter note. The monk fruit-sweetened product also contained allulose, an alternative with temporal properties like sucrose that has more synergy with other sweeteners.
Applications expertise is essential to identifying the right sweetener blend and level for BFY products. Benchtop explorations can also help with flavor compatibility and usage rates to maximize taste from first spoon to last.
What are the top innovation opportunities for frozen desserts in 2022?
Mintel's "Future of Ice Cream 2021" report highlights three main areas for short-term growth in ice cream: sustainability, excitement, and health goals.
Showcasing Sustainability
While sustainability isn't a new thing, ice cream manufacturers have just begun skimming the surface of opportunity for this consumer-driven trend. When it comes to dairy-based ice cream, the dairy industry will be under a spotlight, and consumers will want to see evidence of ethical treatment of animals. For non-dairy, the sustainability story can come together by outlining the origin of the plant-based ingredients used in the formulation. Whether it's dairy-based or plant-based, manufacturers will need to find ways to offset the carbon footprint created from the reliance on refrigeration and discover new ways to package finished goods. Mintel recommends a careful consideration when outlining sustainability efforts and a "complex and detailed approach from manufacturers." (Mintel)
Igniting excitement:
Variegates and inclusions have always been ways to create excitement around ice cream, but how can manufacturers take those ingredients up a notch? By crafting unfamiliar but enjoyable texture experiences, developers can target consumers who are looking to try something new. Furthermore, formulators can work to create connections between mood and frozen desserts to deliver a sensory experience that extends beyond flavor and texture, such as products geared towards calming or settling. (Mintel) Achieving that perfect balance of delicious flavor and unique texture is a delicate dance that can be achieved through incorporating an inclusion, variegate, or both. When it comes to taste and flavor delivery, these components must work together to ensure they are delighting, and not overwhelming, the consumer.
Achieving health goals:
Frozen dessert and ice cream haven't been under the same health-related scrutiny as other categories because of the products' indulgent nature. There is real room for innovation when it comes to healthful dessert offerings. Mintel highlights gut health, immune system support and better-for-you ingredients and areas of opportunity for the category. Currently 34% of US consumers would be motivated to try a frozen treat that is considered better for you, and we can only expect that number will grow. (Mintel)
Crafting Your Next Frozen Dessert Innovation with a Solutions Partner
Need support on your frozen dessert innovation journey to success? Leverage our extensive frozen dessert expertise by partnering with us on your next indulgent innovation! A partnership with our flavor experts can help you navigate development hurdles and speed time to market. We're here to make your dreams become a reality. Connect with our team to learn more!