2021 has become the year of the health-conscious consumer. North American shoppers are actively looking for foods and beverages that offer functional benefits beyond basic nutrition. Food Navigator notes the shift in shopping values as consumers take a "more proactive approach to the nourishment of their bodies and minds." Candy Industry specifically points to consumers reaching for functional foods like protein bars to cut down on sugary snack foods.
Opportunities for new functional foods and beverages abound. Currently, the market is worth $281.14 billion and is forecasted to grow 9.5% annually to reach a possible $580 billion by 2028.
Earlier this year, FlavorSum conducted a study to assess consumer expectations about food and beverage functionality. We've already explored the functional benefits North American consumers are interested in and the categories they turn to for support. Now, we will dive deeper into opportunities for innovation and explore how manufacturers can build market share by satisfying the growing hunger for functional products.
How Do Consumers View Functional Benefits?
For the survey, we defined "functional" as:
Foods, beverages, vitamins, or supplements that have a potentially positive effect on health beyond basic nutrition.
Products that are said to promote optimal health and help reduce the risk of disease.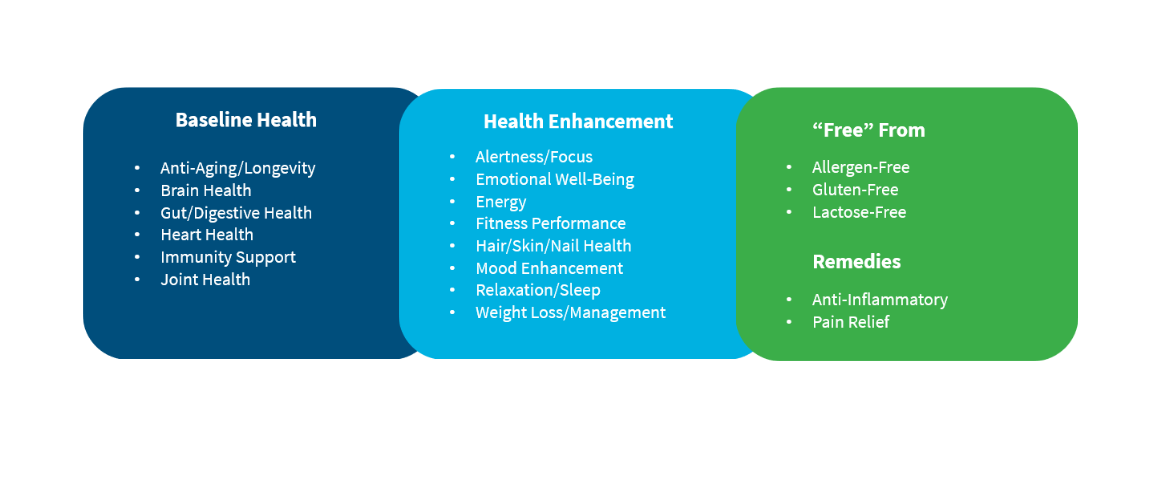 Top priorities for consumers were immunity support, brain health, and heart health. Benefits with the lowest interest included allergen-free, lactose-free, and gluten-free.
Opportunity: Craft Solutions for Unmet Needs
Comparing the functional benefits consumers are looking for with their ability to find solutions reveals unmet needs. The largest gaps exist for products offering:
Allergen-free
Brain health
Anti-aging
Alertness/Focus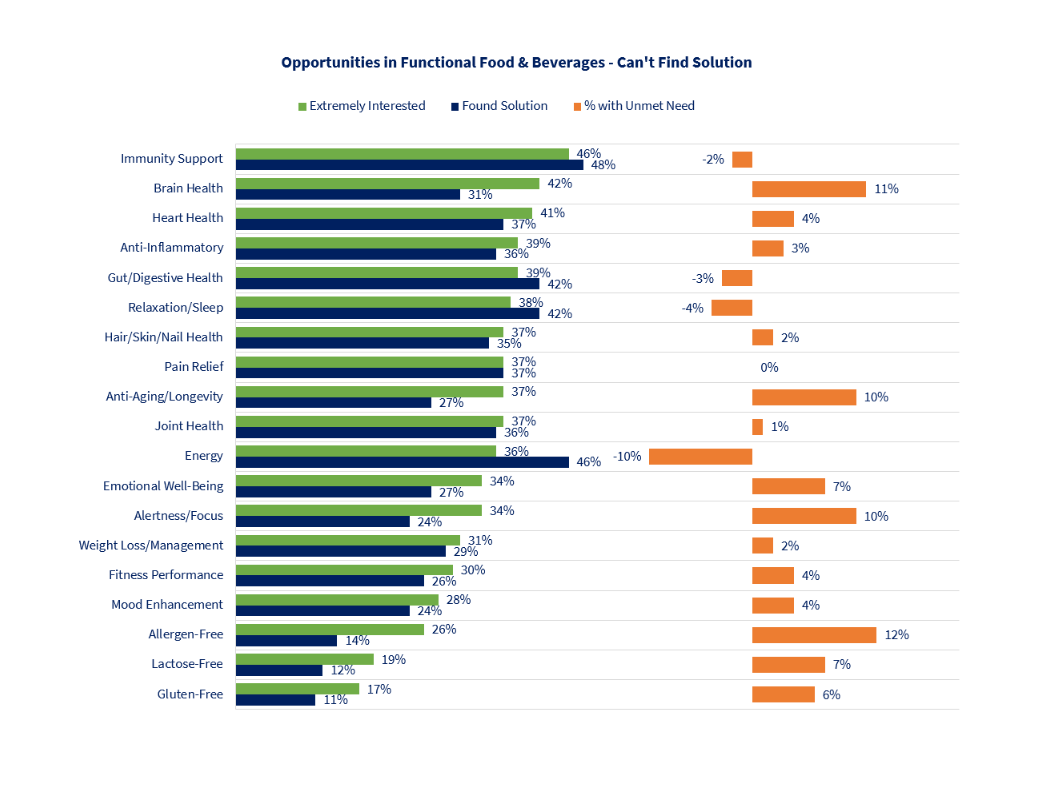 Opportunity: Bridge the Satisfaction Gap
Another comparison between the percentage of consumers who found a solution and how many were satisfied with that solution reveals more opportunities for new product innovation. Benefits with the most significant "satisfaction gaps" are gut/digestive health, immunity support, and relaxation/sleep.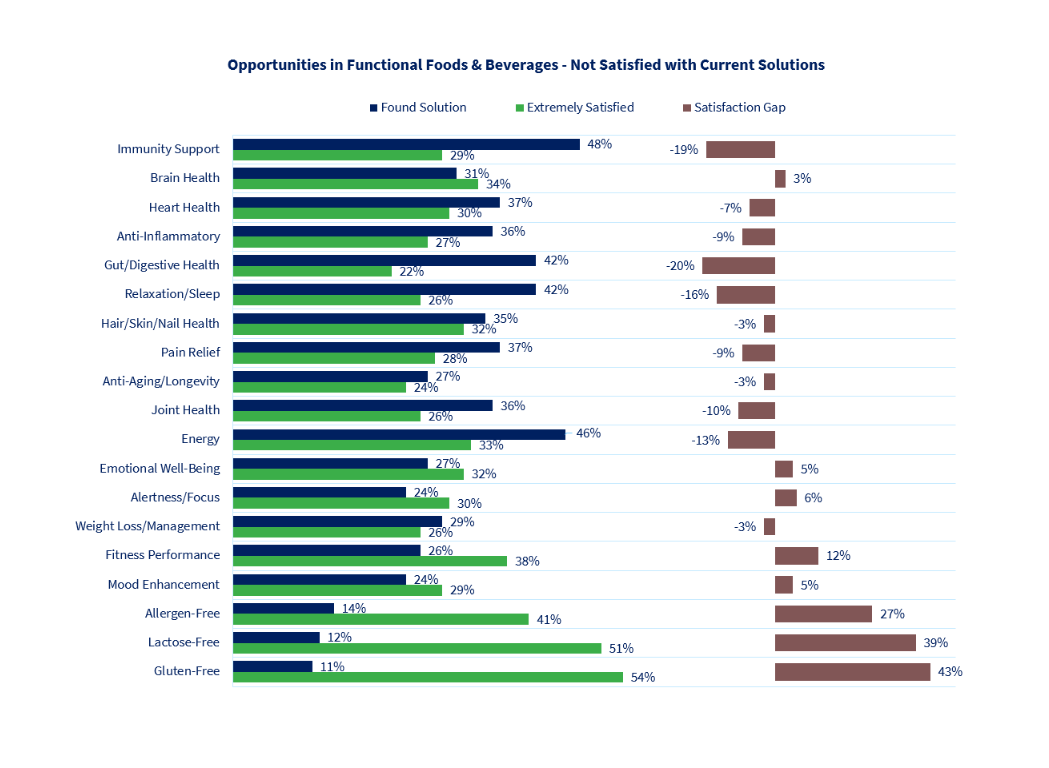 We also asked consumers the reasons they are dissatisfied with products offering a functional benefit. The top five responses were:
I didn't experience any benefits (70%)
They are too expensive (53%)
It was taking too long to experience benefits (44%)
I don't think the benefits outweigh the expense (41%)
Their claims are not believable (33%)
Manufacturers can help bridge satisfaction gaps by setting reasonable expectations for the product and offset the desire for instant results. Offering multiple package sizes may make consumers more willing to "try out" a product before buying a larger quantity.
Opportunity: Build Trust by Educating Consumers About Functional Benefits
While interest in functionality is high, knowledge about the benefits of specific ingredients is low. Outside of a few well-known ingredients like fiber, protein, and caffeine, most were relatively unknown.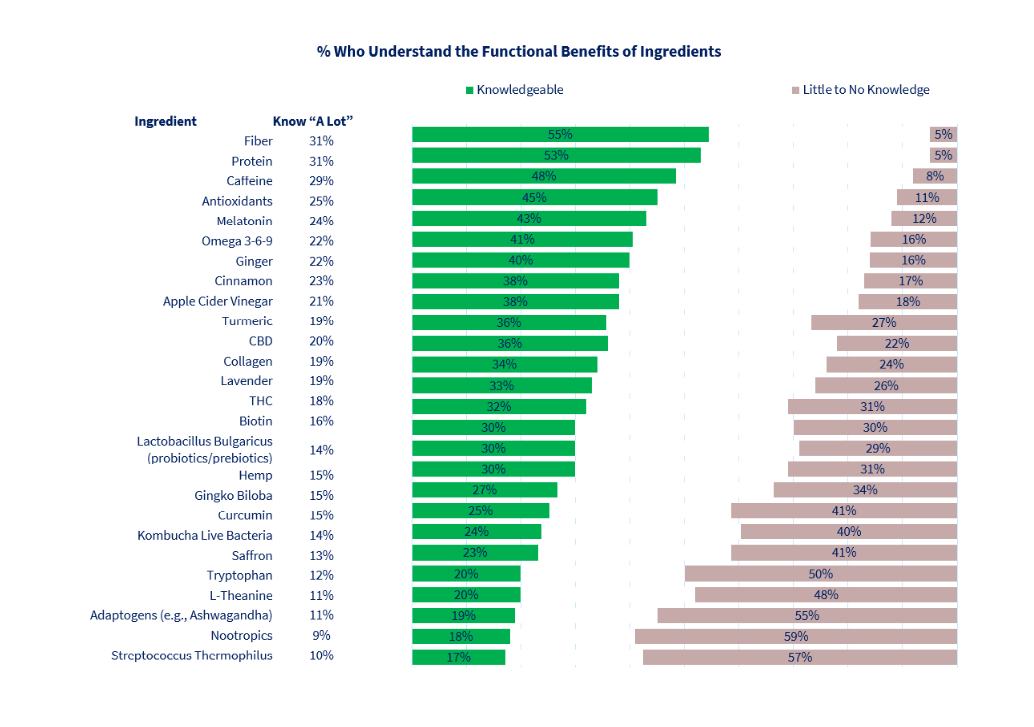 The absence of understanding indicates an opportunity to build trust and knowledge by educating consumers about the benefits of lesser-known ingredients like nootropics and adaptogens. Manufacturers can also address concerns around ingredients being "fads" by backing up functional benefits and providing scientific resources. On-pack claims will need support from digital or in-pack resources with more complete explanations.
Opportunity: Flavors Associated with Functional Benefits
Format and flavor concerns were further down the list of reasons consumers were dissatisfied with functional products. Only 12% said they didn't like the functional food or beverage taste, and 4% said they didn't like the format. Findings indicate a general willingness to try products with desired benefits and an opportunity to exceed expectations with innovative flavors and forms.
To help provide direction for food and beverage manufacturers, we asked consumers about the functionality they expect to find across different categories and the flavor families that "fit" with specific benefits.
Immunity
Top Categories
Vitamins/Supplements
Dry/Powdered mixed beverages
Yogurt
Hot beverages
Cold beverages
Top Ingredients
Antioxidants
Ginger
Turmeric
Apple cider vinegar
Nootropics
Stand Out Flavors
Citrus was a favorite for dry or powdered beverage mixes and tropical and melon flavor families trailing behind. For yogurts offering immune system support, consumers favored citrus, melon, and simple sweet flavor families.
Brain Health
Top Categories
Vitamins/Supplements
Dry beverage mix
Dairy-Like beverages
Hot beverages
Bakery
Top Ingredients
Omega 3-6-9
Ginkgo biloba
Nootropics
L-Theanine
Protein
Stand Out Flavors
Dry beverage mixes were also a top choice for supporting brain health, and consumers thought berry and tropical flavor families fit well in this category. Dairy-like beverages had more flavor associations, including fruit, tropical, simple sweet, and fun flavors.
Heart Health
Top Categories
Vitamins/Supplements
Grain-based bars/bakery items
Yogurt
Dry/Powdered mixed beverages
Diary-like beverages
Top Ingredients
Omega 3-6-9
Antioxidants
Curcumin
Streptococcus thermophilus
Protein
Stand Out Flavors
For bakery items, consumers paired tropical, melon, and botanical flavors. Yogurt was a more diverse category with berry, fruit, tropical, citrus, melon, simple sweet, and botanical associations.
More Insights Await
Have you found your next functional food or beverage opportunity? We have even more consumer insights to share with you. Our upcoming e-book, "Discover the Innovation Opportunities in Functional Foods & Beverages," will be available soon. We take an even deeper dive into specific benefits and flavor opportunities by category. You can also head over to YouTube to watch our webinar on building benefits into foods and beverages.
If you have immediate questions or are trying to solve a formulation challenge, contact our team. We're here to help accelerate the success of your next launch.